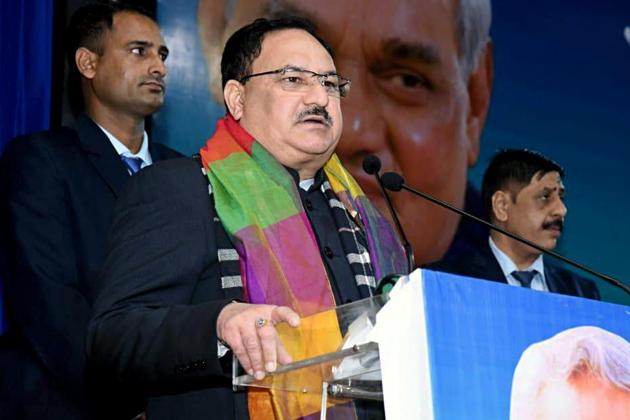 Those against CAA are 'anti-Dalits': JP Nadda slams opposition
The Dalit leaders who are opposing the law should be exposed, he said, asserting that Prime Minister Narendra Modi is the "biggest protector" of the community.
UPDATED ON DEC 29, 2019 11:49 PM IST
Bharatiya Janata Party (BJP) working president JP Nadda on Sunday said those opposing the Citizenship Amendment Act (CAA) were against Dalits because most Hindu migrants from Pakistan, Afghanistan and Bangladesh, who would benefit from the citizenship law, belonged to lower castes.
Speaking at an event in Delhi, Nadda said: "The opposition parties and those Dalit leaders opposing the CAA should know that a majority of Hindu migrants from Pakistan, Afghanistan and Bangladesh are Dalits. Most of those came to India belong to castes like matua and namashudhra." He was referring to lower-caste Hindu Bengali migrants.
The amended citizenship law is aimed at fast-tracking citizenship rights of immigrants of all faiths from three neighbouring countries, barring Muslims.
Nadda said the Modi government would fulfil the aspirations of Hindu immigrants and give them equal rights and citizenship. He also blamed the Congress for partition of the country along religious lines.
Nadda said under the Nehru-Liaquat pact, both India and Pakistan were responsible for protecting their respective minorities. "India took everybody along, as a result of which all sections of the people progressed in society. However, minorities in Pakistan faced persecution," Nadda said. Such persecution meant the Hindu populations of Pakistan and Bangladesh were reduced to 3% and 7% respectively, he said.
"The Congress party and its allies only shed crocodile tears for the Dalits," Nadda said.
Responding to Nadda's attack, Congress spokesperson Jaiveer Shergill said: "The BJP is the biggest anti-Dalit political party, as is evident from the astronomical rise in atrocities against Dalits since 2014. The protest against the CAA is not against communities included in the CAA but to seek inclusion of those excluded arbitrarily in violation of Article 14 of Constitution. The NRC (in Assam) has resulted in five lakh-plus Bengali Hindus being declared as illegal immigrants in India." Shergill said Gujarat had seen a 70% rise in atrocities against Dalits between 2014-2018.
Nadda was chief guest at a function organized by Delhi's prajapati community, which falls under Other Backward Classes.
Close