Top Maoist leader gunned down in Jharkhand's Garu forest
The slain CPI (Maoist) leader carried a cash reward of Rs 2 lakh on his head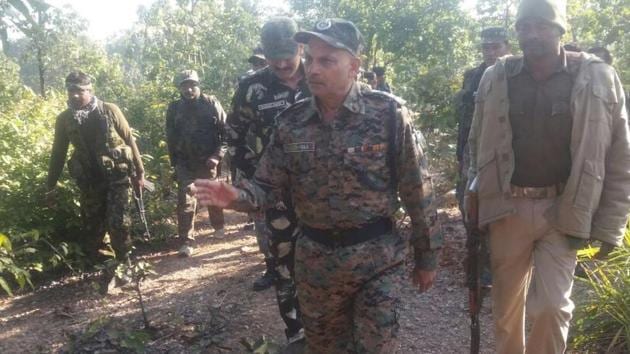 Updated on Feb 02, 2018 12:40 PM IST
Hindustan Times, Latehar | By Vishal Sharma
The security forces gunned down a senior CPI (Maoist) leader Birbal Oraon, who was recently elevated to the rank of Bihar-Jharkhand Special Area Committee (BJSAC) member, in an encounter in Garu forests in Jharkhand's Latehar district on Thursday night.
Buoyed by the achievement, senior Jharkhand police officers asked the CPI (Maoist) cadres to surrender or meet the similar fate.
The special assault group from the Jharkhand's elite strike force Jharkhand Jaguar (JJ) engaged the CPI (Maoist) squads led by BJSAC member Birbal and area commander Chandan Singh in two encounters within four hours before gunning down the prized naxalite in the second round.
Birbal carried a cash reward of Rs 2 lakh on his head.
Encounters ensued near the Bheetar Pandra village under the Garu police station in the district when the special assault group was combing forests following intelligence input about the movement of Maoists' squads in the area.
The place of occurrence, more than 30 km from Garu police station, lies in the bordering areas of Latehar and Gumla districts.
Palamu range deputy inspector general of police (DIG) Vipul Shukla said, "Birbal's body was found after the second round of encounter stopped. This is a major achievement of our boys who conducted the operation with precision. He carried a cash award of Rs 2 lakh."
The DIG further said the blood stains at the spot indicated that other Maoists also suffered injuries in the gun battle. A search operation is going on to locate injured ultras.
The DIG said, "The Maoists should lay down arms otherwise they will meet similar fate as we are committed to wipe them out."
The subsequent search operation led to the recovery of rifle, live cartridges, detonators, raw materials for assembling IEDs, cash, blankets, medicines, uniforms, jackets and other items of personal use from the spot.
Recently, the JJ personnel had also gunned down a commander of a Maoist splinter group near Latehar.
Close Story