Trade war: India set to take on US with $240 million retaliatory tariffs
Updated on Jun 16, 2018 02:45 PM IST
Proposed tariffs seek to counter US duty hikes on steel and aluminium imports from India.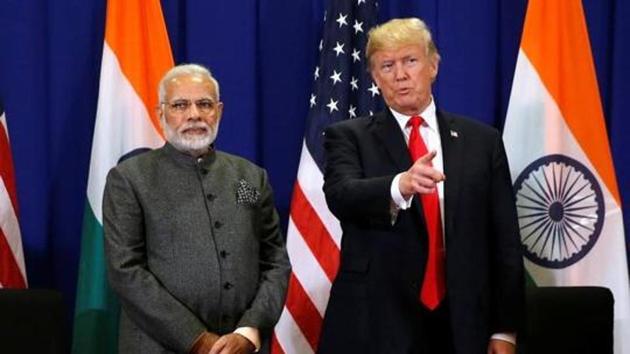 Hindustan Times, New Delhi |
HT Correspondent
India is set to introduce tariffs worth $240 million on a list of 30 imports from the United States as New Delhi plans retaliation over an increase on duties imposed by the Donald Trump administration on Indian steel and aluminium.
India has notified to the World Trade Organization (WTO) the revised list including almonds, apples, phosphoric acid and motorcycles with engine capacity of more than 800 cc (including Harley Davidson motorbikes), on which it intends to impose retaliatory tariffs. On 18 May, India had given the WTO a list of 20 items imported from the US worth $166 million on which it proposed to increase tariffs.
In the revised list, India has lowered the proposed maximum additional duties from 100% (on walnuts) to 50% (on Harley Davidsons).
In Brussels, European Union countries on Thursday approved a raft of tariffs targeting US goods including whiskey, blue jeans and motorcycles in retaliation against duties imposed by Trump on European metals. The European countermeasures aimed at 2.8 billion euros ($3.3 billion) of American imports come after Trump on June 1 followed through on a threat to impose tariffs on European steel and aluminium exports.
On Friday, Trump announced hefty tariffs on $50 billion of Chinese imports and Beijing threatened to respond with "equal scale, equal intensity."
The response from India, China and the European Union to unilateral tariff movies by the Trump administration signals an escalation of their trade disputes. Trump, whose hardline stance on trade has seen him wrangle with allies, vowed further measures if Beijing struck back.
India had asked the US government to exempt it from its 25% levy on steel and 10% on aluminum imposed by Trump on grounds of national security. The US rejected the request by India, which has also dragged the US to the WTO dispute settlement mechanism over the matter.
Asked whether the proposal to retaliate against the US is posturing by India ahead of the trade talks, a commerce ministry official said on condition of anonymity: "The US goes ahead and does its own thing. Why should India be posturing only? When talks happen, we can use it as a bargaining chip."
Trade minister Suresh Prabhu said on Friday after a two-day US visit that the talks he had with American officials were held in a positive atmosphere and that trade negotiators from both sides would soon meet to resolvel pending issues.
Assistant US trade representative Mark Linscott is likely to visit India in the last week of June to negotiate a "trade package", the official cited above said.
The package is likely to involve negotiations granting an extension to India on generalised system of preferences (GSP) that the US is currently reviewing. India exports about 3,500 items worth $5.6 billion to the US at zero or low duties. India in exchange may facilitate more US imports in items such as dairy products and Harley Davidson bikes.
Trump has often raised the issue of higher tariffs on Harley Davidson motorcycles imposed by India and threatened to slap reciprocal taxes on Indian bikes, which he has wrongly claimed India was selling "in thousands" in the US.
Addressing the press on the sidelines of the G7 summit in Canada's Quebec City last week, Trump particularly named India, accusing it of charging 100% tariff on some US goods. "We're like the piggybank that everybody is robbing," Trump said.
( With inputs from agencies)
Personalise your news feed. Follow trending topics