Nitish sacks Sharad Yadav as RS leader for opposing alliance with BJP
Updated on Aug 12, 2017 09:07 PM IST
Sharad Yadav's removal as the Janata Dal (United) leader in Rajya Sabha came a day after the party sacked Ali Anwar from its parliamentary party.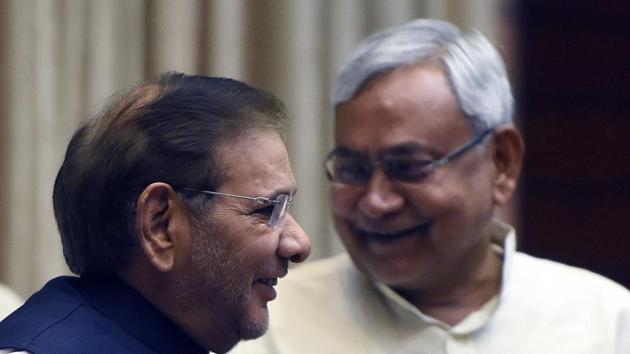 The Janata Dal (United) on Saturday sacked senior lawmaker Sharad Yadav as the party's leader in the Rajya Sabha, seen as a punishment for his public disapproval of Bihar chief minister Nitish Kumar's decision to re-join the BJP-led alliance.
Yadav's removal came a day after the JD(U) sacked another Rajya Sabha member, Ali Anwar, from its parliamentary party after he attended a meeting called by the Congress to discuss an anti-BJP front.
Last month, Kumar called off his alliance with Lalu Yadav's RJD and the Congress to realign with the BJP. He was sworn in as the chief minister of an NDA government.
JD(U) sources said the decision to sack Yadav was conveyed to vice president Venkiah Naidu, who is also the chairperson of the Upper House. A delegation of party's Rajya Sabha and Lok Sabha members submitted a letter Naidu.The party has seven members in the Rajya Sabha and two in the Lok Sabha.
Nitish Kumar's close aide, RCP Singh, will be the JD(U)'s new leader in the Rajya Sabha, sources quoting the letter said. Singh will also head the party's parliamentary party, the sources added.
Kumar could take more action against Yadav and some other sulking leaders after the party's August 19 national executive meeting. All the rebels have been invited to the meeting, the sources added.
A disgruntled Yadav is travelling through Bihar to interact with people and possibly chart a new political course.
Nitish Kumar said on Friday that Yadav "has every right to take his decision as to where is loyalties lie", virtaually ruling out possibilities of a rapproachment.
Meanwhile, Anwar on Saturday said history would not forgive Nitish Kumar for going against the mandate of the people of Bihar in favour of the so-called grand alliance of the JD(U), RJD and Congress.
Anwar accused Nitish of sacrificing the nation to save his government.
"The ones who changed the mandate should be questioned," he added.
Anwar said that leaders like him and Sharad Yadav have listened to their conscience.
(With agency inputs)
Personalise your news feed. Follow trending topics