Two security personnel killed, 11 injured in separate militant attacks in Kashmir
Hindustan Times, Srinagar |
Mir Ehsan
Jun 12, 2018 07:46 PM IST
These attacks come at a time when the Centre is considering the extension of a unilateral Ramzan ceasefire in Kashmir
Unidentified militants killed two policemen and injured another during an attack on a guard post at the district court complex in South Kashmir's Pulwama on Tuesday morning. They decamped with two service rifles recovered from the spot.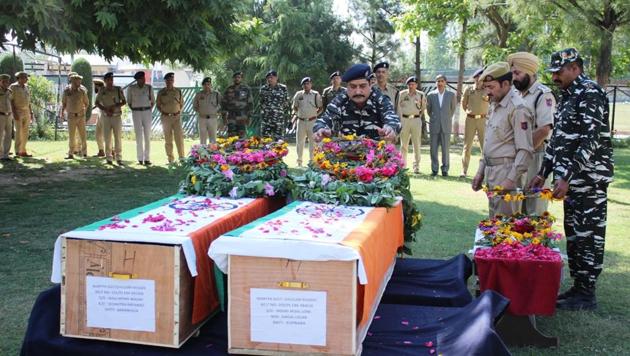 Militants also targeted a CRPF picket in Anantnag the same day, injuring 10 jawans in the process.
These attacks come at a time when the Centre is considering the extension of a unilateral Ramzan ceasefire in the Valley. Union home minister Rajnath Singh recently said the government would take a decision on the issue after reviewing the security situation in the region.
Describing the Pulwama incident, a police spokesperson said: "At the onset of first light today, militants fired indiscriminately at a guard post in the court complex. Three cops sustained injuries in the incident."
Two of the policemen – identified as Ghulam Rasool from Baramulla and Ghulam Hassan from Kupwara – succumbed to their injuries later. The injured man, Manzoor Ahmad, was shifted to the army base hospital.
Pulwama superintendent of police Mohammad Aslam alleged that Jaish-e-Mohammad militants were responsible for the attack. "The court complex is located close to the degree college complex. It's a huge area and there were not many security personnel present," he said, adding that the militants have been identified and a case registered.
Although the army and police sealed the area and launched an operation after the incident, no militant was arrested until reports last came through.
Hours after the attack, photographs of two rifles purportedly snatched from the policemen during the attack surfaced on the social media. The images were, however, posted by militants affiliated with the Hizbul Mujahideen.
In the second incident, 10 jawans were injured when militants lobbed a grenade at a CRPF picket at Ganjivera in Anantnag town.
With this, Kashmir has witnessed 54 incidents of violence since the central government announced the Ramzan ceasefire. Most such attacks took place in the districts of south Kashmir.
Former Jammu and Kashmir chief minister Omar Abdullah accused militants of trying to sabotage the ceasefire. "With the militant organisations doing their best to make sure the ceasefire fails, they will only have themselves to blame when security forces come at them harder than ever once the ceasefire ends," he said.