Upcoming polls a battle for state's future: Rahul Gandhi in Goa
The Congress leader spent the day in Goa interacting with fishers, with the mining-affected community, and in a break from protocol, spent time at a local restaurant and hitched a ride on a motorcycle taxi -- known as pilots in Goa.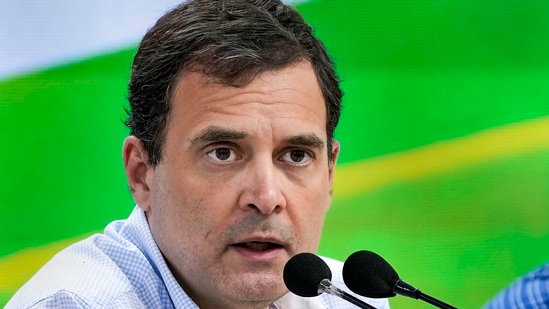 Updated on Oct 31, 2021 01:55 AM IST
The upcoming assembly election in Goa is not just a political but also an ideological battle for the idea of India and the idea of Goa, Congress leader Rahul Gandhi said on Saturday, urging party workers to help the state retain its identity in the face of the "hatred" that is being spread by the Bharatiya Janata Party.
Addressing a convention of Congress workers at Taleigao on the outskirts of Panaji, Gandhi carried forward the tone he set earlier in the morning during an interaction with fishermen that the Congress was out to spread love and affection.
"This is a political fight but this is also an ideological fight," he said. "The culture of Goa, the way of life of Goa is also the culture of India and the way of life of India. We are not just fighting an election here. We are fighting a fight about defining what Goa is going to become. How Goa is going to treat itself and how it is going to treat the rest of the world. I want Goa to show the rest of the world that it can stand together to maintain and protect its wonderful culture, maintain and protect its wonderful environment and still move forward with vigour and dynamism."
"We are the political party that represents a united Goa, a prosperous Goa. We are a political party that represents the idea that Goa can love each other, can work with each other. They (BJP) are the political party that represents that Goa has to be divided. That Goans have to disrespect each other. That Goans cannot share a future together..."
BJP MP from South Bengaluru Tejasvi Surya said Gandhi was holidaying in Goa. "Rahul Gandhi, like Mamata Banerjee, is a political tourist in Goa."
Close Story
Personalise your news feed. Follow trending topics