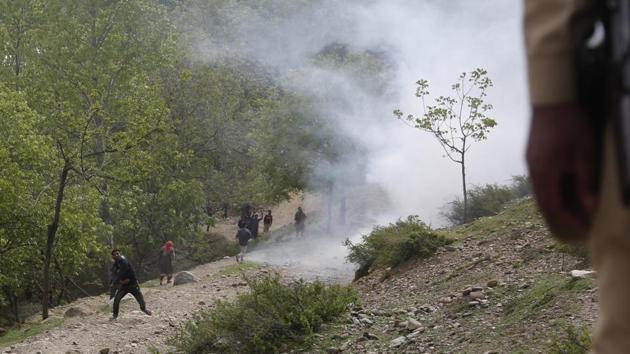 Video emerges of 'trainer' giving tips to recruits on how to aim a gun, J-K police probe on
In the video, the trainer, who is holding an AK-47, teaches the recruits about the correct body posture while taking an aim with a gun.
UPDATED ON MAY 02, 2017 08:01 PM IST
A video purportedly showing a militant giving training tips to a group of recruits on using an assault rifle has surfaced in the Kashmir Valley and is being investigated by the police.
The two-minute video appears to have been shot in an orchard in the Valley and seemingly shows a group of 15 recruits of terror groups Hizbul Mujahideen and Lashkar-e- Toiba jointly being imparted training by a trainer.
The identity of the trainer, whose face is visible in the video, is not known.
Holding an AK-47, he is seen telling the group on how to fire from a gun.
"I will give you some basic tips on how to fire a weapon when you have to aim at an enemy," the trainer is heard telling the recruits in Kashmiri language.
"The first thing for aiming your weapon is the correct body position," he says.
He is then heard giving tips and saying the second-most important thing is to have a strong hold of the weapon while the third is breath control.
The fourth is the control on the trigger and then, at last, you have to close left eye, draw a fictitious line and aim, the trainer tells the recruits while demonstrating these tips with an AK-47 rifle in his hands. He, however, does not fire from the weapon.
A police official said they are investigating this video and some others which surfaced in recent months.
Close