Water floods Narmada valley; People start vacating their houses
Sep 15, 2017 11:16 PM IST
The moment they had been dreading for the last three decades has finally arrived. Narmada water has started inundating villages in Sardar Sarovar Dam Project (SSP) submergence, forcing affected people to start vacating their homes.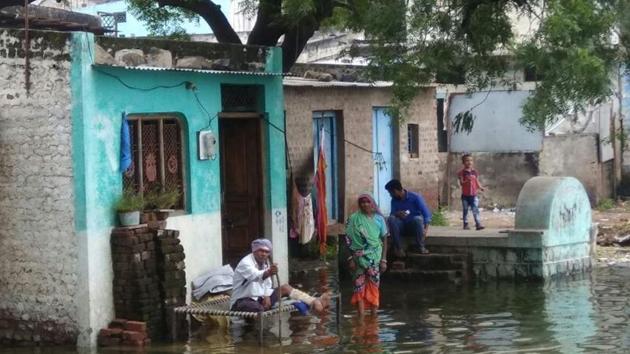 Due to incessant rainfall in the catchment of Narmada over the past few weeks and water management in the reservoirs on Narmada, the water level has crossed much beyond the danger mark of 123.2 metres at Rajghat in Barwani district.
The water level, which was 123.6m on August 30, has now reached 128.5m. This has led to inundation of water into the farms and inhabited areas closer to the Narmada banks, especially in Dhar district. The swelled waters have submerged Nisarpur (Dhar) and Rajghat (Barwani) bridges that act as boundary between the two districts.
Local sources said that many affected families in Dhar's Nisarpur, Dharmrai , Kasrana and Chikhalda have started vacating their houses, relocating to safer places, ferrying their belongings in tractors, autos and other vehicles. Many others are still waiting, hoping the water may recede.
Well ahead of the prime minister's inauguration of SSP gates on September 17, the authorities had closed its sluice gates on June 17, paving way for rise in water level in the 214 km stretch upstream of Narmada. Following closure of the gates, the height of the dam was increased to 138m from the earlier 121.92m.
District officials, police and NDRF are on high alert in Dhar and Barwani, keeping a tab on the developments and making appeals to project affected people to vacate their homes in time.
Rajneesh Vaish, vice-chairman, Narmada Valley Development Authority, said water level is decided by the Narmada Control Authority. "In the next few days, the NCA's requirement is to have a water level of 130m. So water will further rise," he said.
(With inputs from Chotu Shastri from Dhar district)