West Bengal bypolls: Trinamool on path of victory in all 4 constituencies
Updated on Nov 02, 2021 11:44 AM IST
Bypolls to four assembly constituencies in West Bengal, including Dinhata, Gosaba, Khardaha and Santipur, were held on October 30.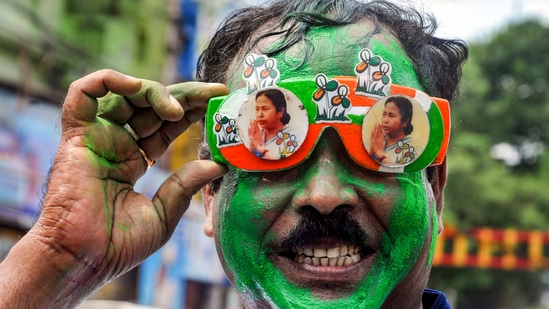 The Trinamool Congress (TMC) was on the path of victory in all the four assembly constituencies in West Bengal where bypolls were held on October 30, as the counting of votes continued on Tuesday.
The bypolls were held in four assembly constituencies in West Bengal, including Dinhata, Gosaba, Khardaha and Santipur.
The Trinmaool Congress secured 76.3% of the votes polled while the Bharatiya Janata Party (BJP) could manage only 14.21% of the ballots cast, data from the Election Commisison of India showed even as the counting continued.
In Dinhata, Trinamool Congress heavyweight Udayan Guha contested against Bharatiya Janata Party's (BJP) Ashok Mandal to reclaim the seat that the BJP had won by a thin margin in the assembly elections held earlier this year. Guha was leading by 146,226 votes after the 15th round of counting.
The bypoll to Dinhata was necessitated after BJP's Nisith Pramanik was elevated as a Union minister of state during the recent Union Cabinet reshuffle. Pramanik vacated his seat to be at the Parliament.
Similarly, the bypoll to Santipur assembly constituency was held after BJP MP Jagannath Sarkar gave up his assembly seat to retain the Lok Sabha membership. At the bypolls, TMC's Braja Kishor Goswami was leading by 37,026 votes after the 11th round of counting.
However, the Khardaha constituency is being touted as the most high-profile seat at this bypoll. Veteran Trinamool Congress leader and state minister Sovandeb Chattopadhyay fought the seat against BJP's Joy Saha as the election to the constituency was necessitated after TMC MLA Kajal Sinha died of coronavirus disease (Covid-19) days after the assembly polls.
Sovandeb Chattopadhyay was leading by 70,080 votes against his nearest contender, BJP's Joy Saha, after the 12th round of counting.
Sovandeb Chattopadhyay, who had earlier won the Bhabanipur assembly constituency, vacated the seat for West Bengal chief minister Mamata Banerjee to contest during the September 30 bypolls, to retain her membership of the state assembly. Mamata Banerjee won the seat with a thumping majority and decimated BJP's Priyanka Tibrewal.
ALSO READ | How TMC pulled off a massive win against formidable BJP
Gosaba assembly which went to the polls after the seat became vacant following the death of Trinamool Congress' Jayanta Naskar from Covid-19, also saw the ruling party's candidate Subrata Mondal leading by 141,893 votes against BJP's Palash Rana after the 16th round of counting.
If the trends in West Bengal assembly bypolls continue, the ruling Trinamool Congress will add two more seats to its kitty, assuming it wins Dinhata and Santipur seats.
In the assembly polls held earlier this year, Trinamool Congress won 213 seats and BJP clinched 77 seats.
Topics
Personalise your news feed. Follow trending topics