'Won't be a rubber stamp CM': Karnataka's new CM Basavaraj Bommai has a message for Yediyurappa
Published on Jul 28, 2021 11:01 PM IST
Minister Jagdish Shettar has already said he won't be a part of the new cabinet as Shettar is Basavaraj's senior and he has also been the chief minister of the state in past.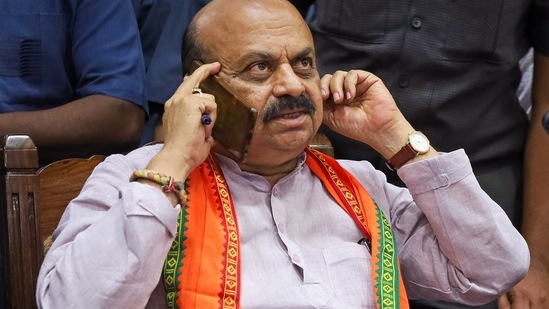 Karnataka's former chief minister BS Yediyurappa and new chief minister Basavaraj Bommai will not be two power centres in the state as the power will rest with the team, and not with any individual, new chief minister Basavaraj Bommai said on Wednesday after taking charge as Yediyurappa's successor. Dismissing speculations that with Yediyurappa being active in Karnataka politics, he might not have actual power, Bommai said, "In our system and the constitution there is the position of the Chief Minister, there is a cabinet, there is bureaucracy, executive and judiciary. The Chief Minister is first among equals, he is the team leader and I want to take everyone together."
"When I say I will work under the guidance of Yediyuyrappa it means, following the strong and pro-people decisions taken by him during Covid. Despite corona and financial distress he had formulated several schemes in the budget and has given a good administration," he said making the power equation clear.
As Prime Minister Narendra Modi congratulated Basavaraj, he heaped praises on Yediyurappa and tweeted, "No words will ever do justice to the monumental contribution of Shri @BSYBJP Ji towards our Party and for Karnataka's growth. For decades, he toiled hard, travelled across all parts of Karnataka and struck a chord with people. He is admired for his commitment to social welfare." Replying to PM Modi's tweet, the new chief minister wrote, "Thank you Prime Minister @narendramodi ji for your kind wishes. I will definitely continue the good work done by state govt under able leadership of @BSYBJP. We, as team will work for the development of the state and the nation under guidelines of all our senior leaders." Yeddyurappa too congratulated Basavaraj and wished him a successful tenure.
On Thursday, the new CM will visit the flood-ravaged Karwar and then he has plans to fly to Delhi to meet Prime Minister Narendra Modi, Union home minister Amit Shah, defence minister Rajnath Singh and BJP chief JP Nadda, which will depend on the availability of PM's appointment. He will also discuss cabinet expansion with the national leadership, he said.
As Basavaraj Bommai took charge, lobbying for cabinet berth has already begun. When questioned whether he will continue with the same Ministers, Bommai said all these are part of the cabinet formation exercise and "everything will be decided together", PTI reported.
Jagdish Shettar who was a minister in the Yediyurappa cabinet said he won't be part of the new cabinet as he is senior to Bommai and has served as a chief minister earlier. "As I am a former Chief Minister and have seniority, I have decided not to be a part of the new cabinet. I was Minister in the Yediyurappa cabinet despite being a former CM as he (Yediyurappa) is senior to me and I had worked in his government in the past too, but now keeping seniority and morality in view I am not ready to be part of the new cabinet," he told new channels.
Personalise your news feed. Follow trending topics