Bullets don't see who is hit, young boys should stay at home: Kashmir top cop
Mar 30, 2017 01:03 PM IST
Jammu and Kashmir's police chief said young boys in Kashmir were committing suicide by turning up at encounter sites and pelting stones at security forces, an issue the army chief addressed as well, saying his forces would resort to force if civilians interfered in military activity.
Young boys in Kashmir are committing suicide by rushing to encounter sites and pelting stones at security forces, Jammu and Kashmir's police chief said on Thursday, commending his men for minimising civilian casualties despite "great provocation".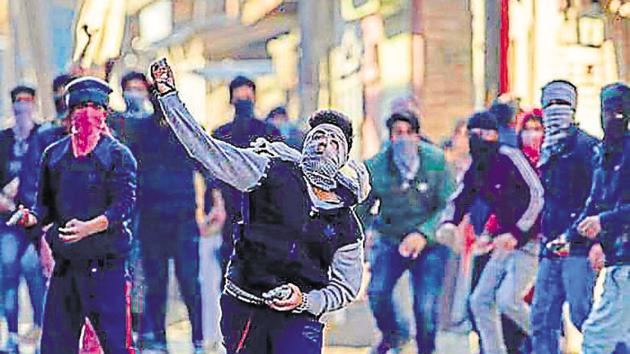 The comments came two days after three civilians were killed during an encounter in central Kashmir's Budgam district when security forces battling militants opened fire on a group of stone-pelting protesters.
"Bullet does not see who is coming or who it will hit. Young boys should stay at home and not come to encounter sites. This is my appeal," director general of police SP Vaid told news agency ANI.
"In spite of great provocation, we have been able to minimise collateral damage and civilian casualties."
The Muslim-majority Valley has been in turmoil for almost a year, after violent clashes broke out over the killing of top militant Burhan Wani last July. The violence left more than 90 people dead and thousands injured – many of them maimed and blinded by pellet guns.
"Lot of provocation is there from the other side, instigating young boys, misleading them to pelt stones and reach the site of encounter," Vaid said.
"Even security forces in an encounter take cover of a vehicle or house. Youth coming to encounter site are committing suicide."
This year, several civilian deaths have been reported during encounters between militants and security forces. They come against the backdrop of army chief Bipin Rawat warning people attacking security forces during anti-militancy operations. Rawat had warned of "tough action" against protesters.
A 15-year-old boy Amir Nazir was killed on March 10 during an encounter in Pulwama. Police said Amir was part of a mob pelting stones when a bullet hit him in the neck. A minor girl was killed during another encounter in north Kashmir on March 15. Army said stray bullets hit the girl.