YSR Congress chief Jagan completes 200 days of padayatra
Jun 27, 2018 07:05 PM IST
YS Jaganmohan Reddy has so far covered a distance of over 2,430km in as many as 93 out of 175 assembly constituencies in 10 districts of Andhra Pradesh.
YSR Congress party president and Leader of Opposition in Andhra Pradesh assembly YS Jaganmohan Reddy on Wednesday completed 200 days of his marathon foot march intended as a political outreach ahead of the state elections scheduled to be held next year.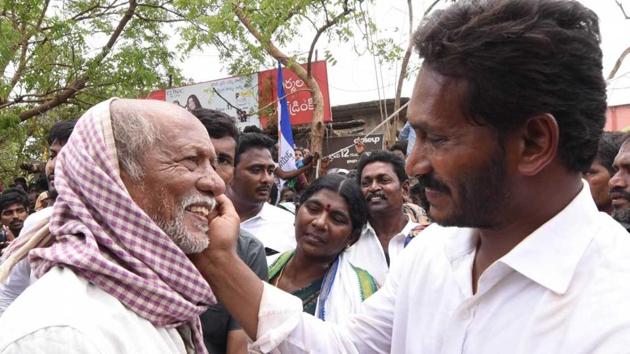 Jagan, who kick-started the padayatra from his native Idupulapaya village in Kadapa district on November 6, has so far covered a distance of over 2,430km in as many as 93 out of 175 assembly constituencies in 10 districts of the state.
By the time he ends his march at Itchapuram in Srikakulam district bordering Odisha, he will be walking into the record books by covering nearly 3,600km in a span of nearly 11 months.
Following the time-tested formula adopted by his father late YS Rajasekhar Reddy in 2003 and his bête noire Telugu Desam Party president N Chandrababu Naidu in 2014 to come to power, the 45-year old Jagan is pulling out all stops to realise his dream of ascending the throne in the next assembly elections.
Except on Fridays when he is compelled to go to Hyderabad to attend the court hearing a CBI case against him, Jagan has been continuously walking.
Jagan said he never felt exhausted while walking.
"In fact, I get the much-needed kick when I meet the loving crowds surging towards me. I am sure I will achieve my goal with their support and love," he said.
He listens to the grievances from a cross-section of people including farmers, landless poor, employees, students, women and youth, takes their petitions on various issues concerning them and promises to resolve them if he is voted to power in the next elections.
The response has been tremendous as thousands have come to see him, shake hands and take selfies with him. And he is obliging their requests, touching and kissing their heads with affection and taking representations from them.
Jagan has so far addressed 87 public meetings, attacking chief minister Chandrababu Naidu for his alleged failure in fulfilling the promises made to the people and exposing the corruption in the government in the execution of the irrigation projects like Polavaram and land pooling in the building of the new capital Amaravati.
He has also addressed issues like the denial of special category status to the state and alleged "unconstitutional" politics of the TDP in luring his party's MLAs and MPs. At the same time, Jagan has come out with a charter of nine major promises – Nava Ratnas – which he says he would fulfil if voted to power.
A team of experts of the Indian Political Action Committee (I-PAC), headed by political strategist Prashant Kishor, is doing the backroom of job in building up Jagan as a popular political brand during the padayatra.
"We have coined a slogan for him - "Raavali Jagan, Kaavali Jagan" (Want Jagan to come, Need Jagan for prosperity), which has become a hallmark of his padayatra. We have been taking this slogan strongly into people during the walkathon to reflect people's eagerness to see Jagan as the leader of the state," an I-PAC team member said.
Chalasani Srinivas, the founder of Andhra Intellectuals Forum and convenor of the joint action committee to achieve special category status, said the YSRC president has been able to make a mark as a leader during the padayatra.
"Though there was not much response in the initial stages, he has been getting a tremendous response after he entered Guntur district with the fight for special category status gained momentum. It will definitely fetch him a lot of mileage in the next elections," Srinivas said.