Difficult to bat like Virat Kohli: Cheteshwar Pujara on India captain's 213
Virat Kohli scored 213 in the second India-Sri Lanka Test. He matched Rahul Dravid's feat and also equalled the record set by Brian Lara as captain by blasting his fifth double century during the ongoing Nagpur Test against Sri Lanka.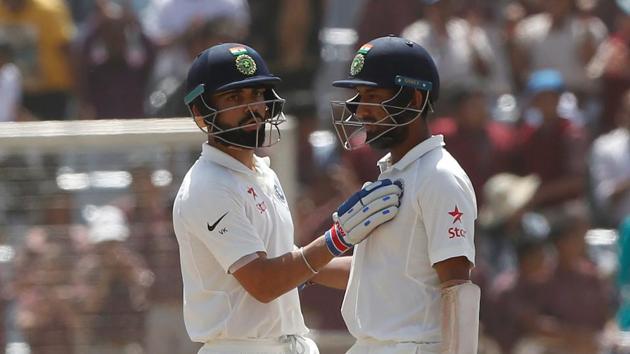 Updated on Nov 26, 2017 07:23 PM IST
India's run machine Cheteshwar Pujara added another 142 to his burgeoning tally of international runs during the second Test against Sri Lanka. (India vs Sri Lanka 2nd Test Highlights)
Even though runs were hard to come by for Pujara on the third morning, he batted with concentration and made the Sri Lankan bowlers toil for his wicket. (India vs Sri Lanka 2nd Test scorecard)
In the first Test at the Eden Gardens, Pujara had contributed a resolute half-century on a wicket where rest of the batsmen struggled in the first innings. Asked to assess his hundred in the context of that half-century, Pujara said: "Kolkata was a different wicket altogether with lot of assistance for the fast bowlers, especially in the first innings. Coming to this wicket, I think it was difficult to score runs as this wicket was on the slower side."
READ | Virat Kohli, Rohit Sharma overwhelm sloppy Sri Lanka, put India on top
Pujara had started Sunday -- Day 3 -- on 121 and added 22 runs in 78 balls. While he was rock solid, he struggled to find the gaps in the morning. "It wasn't easy to get boundaries and we had to rotate the strike, whenever we got some opportunities, we tried playing some shots. But overall, it was a tough pitch where you might not get out but it was also difficult to score runs."
Talking about how skipper Virat Kohli made it look so easy out there, racing to a double hundred at a strike-rate of around 79 compared to Pujara's 39, the Saurashtra batsman said: "He (Virat) is a kind of player who performs well in all the formats. The way he started off, if there was some other batsmen, I don't think they could have started in the same way. It's his confidence and the way he is batting, in the last two-three years. It would have been difficult for any other batsman to score with such a strike rate."
READ | Virat Kohli matches Brian Lara's record, blasts 5th 200 in Nagpur Test vs Sri Lanka
While his game may not be as pleasing to the eye, the value of Pujara's runs is not lost on anybody and India will be banking on him during the tough South Africa tour starting in January. On the previous tour in 2013-14, he had scored 153 in the first Test in Johannesburg.
"Personally, the County experience and past South Africa experience will certainly help because I have improved my technique, specially playing in overseas conditions. Overall, I am very confident with the kind of form I am going through."
Close Story