India vs Sri Lanka, 2nd Test, Day 3 highlights: Virat Kohli double ton puts IND in control
Ishant Sharma's early wicket and Virat Kohli's double century has put India on top against Sri Lanka in the second Test in Nagpur. Get highlights of India vs Sri Lanka, 2nd Test Day 3, Nagpur, here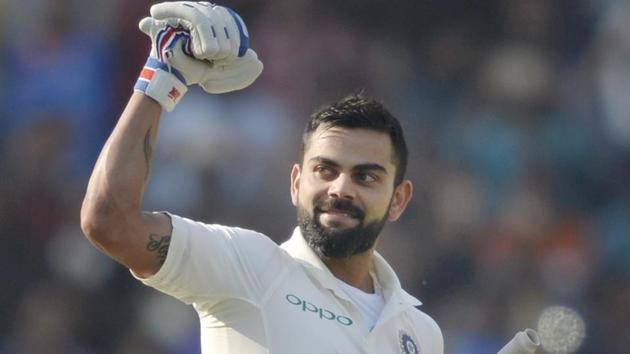 Updated on Nov 26, 2017 04:56 PM IST
Ishant Sharma dismissed Sadera Samarawickrama early as Sri Lanka were 21/1 at stumps on Day 3. Earlier, Virat Kohli's double century and Cheteshwar Pujara's century put the Indian cricket team in control of the second Test against Sri Lanka at the VCA Stadium in Nagpur. Rohit Sharma also scored a well-deserved fifty. India played brilliantly on Day 2 as they rode Murali Vijay's fighting knock to take a 405-run lead. The hosts came really close to winning the first game of the series in Kolkata, but were denied by bad light on the last day of the match. Sri Lanka have never won a Test match in India. Get highlights of India vs Sri Lanka, 2nd Test Day 3, Nagpur, here (SCORECARD | LIVE STREAMING INFO)
16:50 hrs IST: That's all for today! See you tomorrow for another day of exciting cricket!
16:47 hrs IST: "We were in a good situation 400 for 3. We knew that we've to only bat once. It started to deteriorate and knew it would the bowlers. So the idea was to create partnerships. I don't want to talk too much about it [my Test career]. Last year when I missed out on a big home season, I felt a little disappointed. We might never get such a season again - 13 home Tests. But the bottom line is to score runs every time you go out. I don't want to put too much pressure on myself. I'm really glad that I got some run." - Rohit Sharma in his post-match interview.
16:38 hrs IST: That's stumps! Sri Lanka are 38/1, trail by 384 runs.
16:36 hrs IST: Ravindra Jadeja to bowl the final over of the day. SL 21/1
16:32 hrs IST: 2 overs left in the day and India will surely be quite happy with their performance today. SL 20/1
16:26 hrs IST: With a lead of 405 runs and two days to go, Sri Lanka face an uphill task of saving the second Test being played at the Vidarbha Cricket Association Stadium, Jamtha.
16:18 hrs IST: A brilliant start for India in the second innings as they were able to take a wicket early. SL 19/1
16:11 hrs IST: Dimuth Karunaratne gets another boundary. SL 12/1
16:07 hrs IST: The ball was on his pads and Thirimane easily guided it to the fine leg boundary. SL 4/1
16:03 hrs IST: OUT! Ishant Sharma strikes! Samarawickrama is clean bowled for a duck! SL 0/1
15:52 hrs IST: And that's hundred for Rohit Sharma, third in Tests. What an innings from the Mumbaikar! Top class!And India have declared with a 405 runs.
15:49 hrs IST: FOUR! Tossed up from Perera, Rohit dances down the track and smacks it to long-on boundary. Moves to 96.
15:47 hrs IST: Get a feeling India's declaration could happen anytime soon.
15:41 hrs IST: OUT! Third wicket for Dilruwan Perera. Ashwin goes. India 597/6, lead by 392
15:34 hrs IST: Another exciting for Indian batsmen. Sri Lanka have looked clueless. Rohit Sharma on brink of an impressive hundred.
15:27 hrs IST: India are 586/5, lead by 381 runs.
15:20 hrs IST: OUT! And it's the end of a magnificent innings from the Indian skipper. Kohli falls for 213 to offie Dilruwan Perera. What a player!
15:17 hrs IST: Virat Kohli is currently tied with Brian Lara when it comes to the highest number of centuries scored by a Test captain (5). IND 576/5
15:14 hrs IST: Double ton for Virat Kohli! 5th for the Indian cricket team skipper! IND 567/4
15:09 hrs IST: 150-run partnership comes up for Virat Kohli and Rohit Sharma. IND 561/4
15:06 hrs IST: SIX! Virat Kohli moves into the 190s with the six! IND 558/4
15:04 hrs IST: The lead is 346 runs right now. It's likely that India would like to bowl 10-12 overs today. IND 557/4
14:57 hrs IST: Can Rohit Sharma score his 3rd Test hundred? He is looking in fine form! IND 545/4
14:50 hrs IST: In other sports, PV Sindhu's quest to win the Hong Kong Open tournament for the first time suffered yet another jolt as she lost 18-21, 18-21 in the final against Tai Tzu Ying.
4:43 hrs IST: The national selection committee will sit down on Monday to pen down their team for the rest of the matches against Sri Lanka on this tour, and the big tour of South Africa that is coming up in January.
14:36 hrs IST: Virat Kohli places it well for another boundary. Goes for the sloggish pull and hits over mid-wicket. IND 521/4
14:34 hrs IST: We are back for the final session of the day. IND 511/4
14:13 hrs IST: It's tea on Day 3. India are 507 for the loss of 4 wickets, with a lead of 302 runs.
14:09 hrs IST: The run rate has slowed down once again as both players are playing tentatively. IND 507/4
14:02 hrs IST: Fifty for Rohit Sharma. A brilliant return to Test cricket for the batsman. IND 504/4
13:58 hrs IST: He might be known as 'Captain Cool' in the cricketing circles, but according to Suresh Raina, MS Dhoni often gets angry, but only when there aren't television cameras around. Read the story here
13:51 hrs IST: 3 runs to go for Rohit Sharma's half century. IND 497/4
13:46 hrs IST: Dimuth Karunaratne comes back into the attack. IND 493/4
13:40 hrs IST: Sri Lanka have been really defensive in the last one hour or so. They have not employed many close-in fielders and as a result, the batsmen are having no problems in rotating the strike. IND 487/4
13:33 hrs IST: Virat Kohli has 4 Test double centuries. Can he score his 5th? IND 478/4
13:28 hrs IST: Rohit Sharma moves to 36 with a boundary through mid-wicket. IND 466/4
13:21 hrs IST: Another boundary for Rohit Sharma. He is playing effortlessly at the moment. IND 462/4
13:17 hrs IST: Kohli and Pujara's third-wicket partnership fetched 183 runs and was instrumental in increasing the run rate at the start of the day. IND 457/4
13:11 hrs IST: Virat Kohli's knock is his seventh 150-plus score, and add to it that he has two scores of 140 plus, a 141 and 147. It is a superb conversion rate in 19 Test hundreds. IND 456/4
13:04 hrs IST: In the Ashes 2017-18 first Test, Australia need 56 runs more to win on the final day!
13:00 hrs IST: 150 for Virat Kohli! The skipper reaches the milestone with a huge six! IND 453/4
12:53 hrs IST: The lead is now 240 runs. Tough times lie ahead for Sri Lanka. IND 445/4
12:50 hrs IST: FOUR! Inside edge and the ball misses the stumps by just an inch. IND 443/4
12:47 hrs IST: SIX! Rohit Sharma advances down the track and heaves it for a six. IND 438/4
12:40 hrs IST: Looks like Lahiru Gamage has sustained a knee injury. He was taken off the field. IND 430/3
12:35 hrs IST: India are cruising at this point. Looks like it will be a long day for Sri Lanka. IND 426/4
12:28 hrs IST: Rohit Sharma is making his return to Test cricket after almost a year. IND 422/4
12:22 hrs IST: Rahane went for the cut but he ended up giving an easy catch to Karunaratne. IND 410/4
12:18 hrs IST: OUT! Ajinkya Rahane departs as Dilruhan Perera strikes! IND 410/4
12:13 hrs IST: Only two runs off the over. India are 406/3, lead by 201 runs. Lahiru Gamage now
12:11 hrs IST: Welcome back! Dilruwan Perera to start the proceedings, Rahane to take strike.
11:32 hrs IST: Lunch on Day 3. India are 404/3 with Virat Kohli batting on 123*. They lead by 199 runs.
11:29 hrs IST: Pujara was looking all set for his 150 but a beautiful yorker by Shanaka spelled doom for him. IND 404/3
11:22 hrs IST: OUT! Cheteshwar Pujara's innings finally comes to an end as he is clean bowled for 143. IND 399/3
11:18 hrs IST: This was the second consecutive century for Virat Kohli in the series. IND 396/2
11:14 hrs IST: The Sri Lankan bowlers have been quite disappointing in this game with almost all of them failing to make any impact. IND 394/2
11:10 hrs IST: A slight flick of wrists and it's the 11th boundary for Virat Kohli. IND 386/2
11:03 hrs IST: Pujara is also inching towards his 150 - just 11 runs away. IND 380/2
10:55 hrs IST: Virat Kohli, take a bow! 19th Test century for the Indian cricket team skipper. IND 372/2
10:50 hrs IST: In the first Ashes Test, England were bowled out for 195. The target for Australia is 170. Follow live scores here
10:44 hrs IST: 30 runs in the last 10 overs. The Indian batsmen have played quite steadily today. IND 364/2
10:38 hrs IST: 48 runs in the first hour and India are coasting along towards a match-winning lead. IND 361/2
10:34 hrs IST: Into the 90s. Virat Kohli is really close to yet another century. IND 360/2
10:30 hrs IST: Another boundary for Virat Kohli. He is rushing to his century. IND 358/2
10:27 hrs IST: Virat Kohli presents the full face of the bat and the ball rushes to the boundary. IND 351/2
10:24 hrs IST: Virat Kohli is eyeing his 19th Test century and he is just 21 runs away from it. IND 347/2
10:18 hrs IST: 3000 Test runs for Cheteshwar Pujara. What an achievement! IND 343/2
10:14 hrs IST: Finally a boundary for Cheteshwar Pujara. IND 341/2
10:12 hrs IST: 314 balls! Cheteshwar Pujara's innings has really been a patient one till now. IND 337/2
10:07 hrs IST: Suranga Lakmal replaces Gamage. IND 334/2
10:01 hrs IST: Rangana Herath has been quite ineffective on this pitch till now. IND 332/2
09:56 hrs IST: Really slow start by India. Both Virat Kohli and Cheteshwar Pujara are playing quite sensibly. IND 330/2
09:48 hrs IST: Sri Lanka batting coach Thilan Samaraweera admitted yesterday that the current crop of batsmen has struggled against quality spin attack for the last two years and it will take some time before corrective measures can be taken. IND 324/2
09:42 hrs IST: The pitch in Nagpur did show some life on Day 1, but it's all done and dusted now. No problem for the Indian batsmen in playing their shots. IND 322/2
09:38 hrs IST: First boundary of the day for Virat Kohli as he caresses it through extra-cover. IND 317/2
09:34 hrs IST: A quiet start to the day as the first over did not produce any run. IND 312/2
09:30 hrs IST: Lahiru Gamage to bowl the first over of the day. IND 312/2
09:28 hrs IST: We are minutes away from the start of day's play. The players are out in the middle.
09:21 hrs IST: At stumps on Day 2, Pujara was unbeaten on 121 while Virat Kohli was 54 not out.
09:14 hrs IST: Here's what Murali Vijay said about Cheteshwar Pujara yesterday - "I like batting, so it does not matter who bats at the other end! Pujara also has similar mindset as he likes to dig in deep and scrap it out in situations of varied demands. So hopefully, we can continue to do it for India more number of times."
09:08 hrs IST: In other news, Sri Lanka all-rounder Dasun Shanaka has been fined 75 per cent of his match fee after he admitted to ball tampering on day two of the Nagpur Test against India.
09:04 hrs IST: Cheteshwar Pujara will also look to reach his fifth double century!
08:54 hrs IST: Virat Kohli reached his fifty in no time on Day 2 and he will surely be looking to add another century to his impressive record.
08:40 hrs IST: From being India's first-choice opener before his injury-break, Murali Vijay has been relegated to third in the pecking order. However, the seasoned batsman grabbed the first chance to come his way, staking claim to the No 1 spot.
08:29 hrs IST: Another dominating performance for the hosts so far. A lead of around 300 would be more than enough. Sri Lanka face an uphill task. The likes of Angelo Mathews, skipper Dinesh Chandimal need to step up.
08:15 hrs IST: Good Morning and welcome to HT's live coverage of Day 3 of the second Test between India and Sri Lanka in Nagpur.
At stumps on the second day, India were 312 for two in their first innings with Pujara, on 121, and skipper Kohli, on 54, batting to push the visitors out of the game.
Earlier, Murali Vijay and Pujara hit sublime centuries to put India in command of the second Test against Sri Lanka.
The overnight batsmen put together a 209-run partnership to pulverise the opposition attack after the hosts started the day on 11/1 in response to Sri Lanka's 205.
Vijay, who made an impressive return to the team after a long injury lay-off, registered his 10th Test ton before falling to Rangana Herath in the final session of play.
Pujara, a classical batsman who passed 1,000 Test runs this year, played a sedate knock to frustrate the bowlers on a gruelling day for Sri Lanka on the field.
He also combined with Kohli for an unbeaten 96-run stand, forcing skipper Dinesh Chandimal to continue juggling his bowling options till the end of day. Kohli hit a 66-ball half-century and had smashed six boundaries so far.
Close Story