Cow smuggling has to stop; BSF needs to be more alert: Rajnath Singh
Updated on May 20, 2016 10:10 PM IST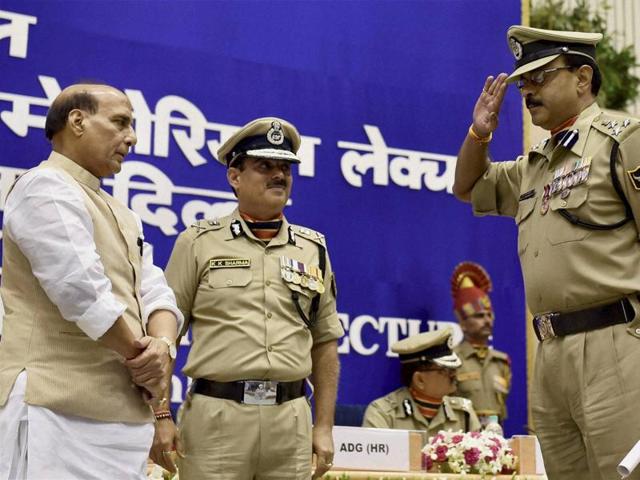 Union home minister Rajnath Singh asked the BSF on Friday to be more alert and vigilant to prevent cow smuggling along the Indo-Bangla border and asserted that the criminal activity "has to stop."
The minister also said he has asked the Union Home Secretary to create a national "think tank" which will work to ensure India's security in all its spheres.
He added that a plan has been chalked out to ensure that the country's land borders are "absolutely safe" and "fool-proof", while the government is deploying smart technological solutions like laser walls and surveillance gadgets to keep security at the frontiers 'chust durust' (fit and fine) at all the times.
In his keynote speech on the topic 'Border Management in Changing Scenario', organised by the BSF here, Singh said forces will have to be alert and alive to changing security challenges to ensure India's economic security and prosperity as some elements have cast their evil eye and perpetrated 'naapak' (unholy) activities against the country, including some neighbours.
There are "some deficiencies" in border management, the home minister said, adding "we are trying to make the scenario more alert and secure".
"Cow smuggling has been taking place for many years now... I congratulate BSF jawans for bringing down the numbers from 23 lakh to 3-3.5 lakh now. I will like to exhort the jawans and officers of the BSF that in order to stop cow smuggling, we will have be more alert and vigilant. This has to stop," Singh said.
He said apart from these measures, it was essential to get the support of state governments on this issue and his ministry has written to them on the subject.
The Home Minister said he was confident about the capabilities of the security forces who guard the frontiers of the country and based on this confidence he can say that no one can "dare" look upon Indian borders.
"The incidents of infiltration have come down by about 50 per cent and a big number of terrorists have been killed. I give the credit for this to the bravery of our security personnel," he said.
Personalise your news feed. Follow trending topics