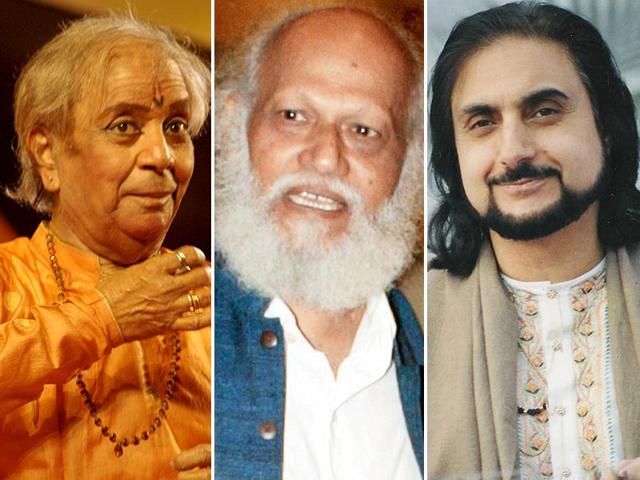 Door shown to artistes overstaying in govt accommodation in Delhi
Twenty seven artistes, including Kathak exponent Pandit Birju Maharaj, santoor player Bhajan Sopori and painter Jatin Das, who have been overstaying in government flats in violation of allotment norms may soon have to vacate their houses.
UPDATED ON AUG 14, 2015 11:47 AM IST
Spacious apartments, leafy avenues and an address to flaunt - government accommodations have a magnetic pull that can make people latch on to them. And it is not just the politicians who will do anything to retain their Lutyen's Delhi address; eminent artistes have joined their ranks too.

Famous names like Kathak exponent Pandit Birju Maharaj, santoor player Bhajan Sopori and painter Jatin Das have been issued notices for staying for decades in government flats that were originally allotted only for three years. The flats are located in prime locations such as Shahjahan Road, Asian Games Village and Lodhi Colony.

Taking a stern view of these unauthorised occupants, the Cabinet Committee on Accommodation (CCA) on Tuesday directed the Union urban development (UD) ministry to initiate proceedings to get the flats vacated.

What is likely to cause heartburn to aam aadmi perennially plagued by housing trouble, these plush flats were to be allotted for three years to eminent artistes in the 40 to 60 age-group, whose monthly income is less than Rs 20,000. Pandit Birju Maharaj has been living in his Shahjahan Road house for 36 years, Jatin Das has been living in his Asian Games village flat for 26 years and Kuchipudi dancer Raja Reddy has been living in his Kaka Nagar flat for 21 years.

The UD ministry has been told to issue notices to the occupants asking them to furnish details of their income and if they own any other houses in Delhi or adjoining NCR cities of Gurgaon and Noida. "Since they were allotted flats on the recommendation of the culture ministry, the CCA has directed the latter to review each case and inform the UD ministry on who all should be evicted for violating allotment norms," a government source said.

In three cases out of 27, families of artistes are still residing in the flats long after their death. Of the 27 occupants, the CCA has directed the UD ministry to start immediate eviction proceedings against the families of late sitar player Ustad Vilayat Khan, dhrupad player RFK Dagar and rudra veena player Asad Ali Khan.

"We are issuing eviction notices in three cases. The house was allotted to the artiste and not his family member. The family members will be told to vacate immediately," said a source.

"However, all the 27 artistes who were allotted flats in areas like Shahjahan Road, Asian Games Village and Lodhi Colony have overstayed in violation of norms long after their allotment tenure was over," said a government source.
Close