Govt failed in its duty: NGT slams pollution watchdog over Yamuna event
Hindustan Times |
, New Delhi
HT Correspondent
Mar 10, 2016 08:26 AM IST
The NGT slammed the Delhi Development Authority for "vaguely" permitting the Art of Living foundation's World Culture Festival on the Yamuna floodplain.
The National Green Tribunal on Wednesday slammed the Delhi Development Authority for "vaguely" permitting the Art of Living foundation's world culture festival on the Yamuna floodplain and described the Delhi pollution watchdog as "incompetent".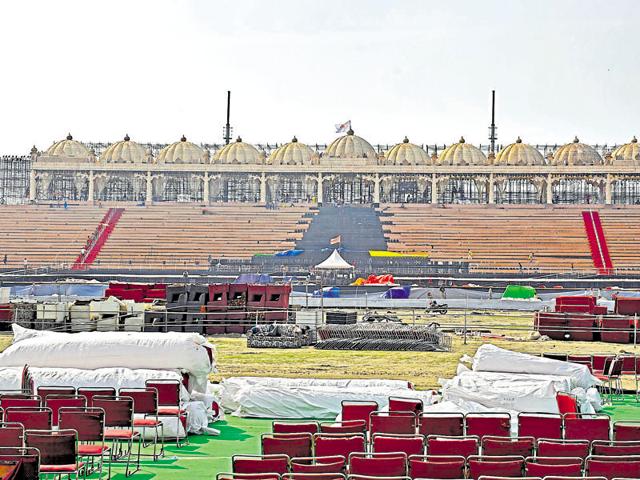 The tribunal imposed a fine of Rs 5 lakh on DDA and a fine of R1 lakh on the Delhi Pollution Control Committee (DPCC) while delivering its verdict for petitioners who had sought a stay on the event, apprehending damage to the eco-sensitive floodplain.
The three-day festival will start from March 11 and 2-3 lakh people are expected at any point of time.
Though the green court did not stay the event, it came down heavily on the DDA and the pollution panel.
"The permission granted by the DDA on June 30, 2015 is a vague permission, which, in fact, is the very basis of the case of the Foundation... It is not in consonance with the orders of the NGT and, in fact, is in excess of the powers vested in DDA which runs contrary to the spirit of the judgment of the tribunal. This cannot be termed as a recreational activity simplicitor," an NGT bench headed by Justice Swatanter Kumar said.
Read | AoL row: Defence personnel caution against using army for private events
The green court said just the cultural activities could be termed recreational but the construction of ramps, roads, accumulation of debris, alteration of the natural topography and removal of natural vegetation from the floodplain, cannot be recreational.
"It is a complete project in itself and the DDA ought to have applied its mind," the court said. The tribunal said that the DDA was fined for "non-performance of its statutory functions". It also directed the DDA to not, in the future, issue such permissions.
The bench also rejected the DPCC claims that it was not obligatory on the panel to grant or refuse the consent to the foundation for such constructions and the manner in which it will deal with the waste generated at the event.
"...we have no hesitation in holding that DPCC has failed to discharge its statutory obligation despite the fact that the foundation had submitted an application for obtaining its consent.
"The Board has failed to exercise due diligence and in fact it has exercised its authority improperly in taking a stand that no orders were called from the Board in the facts and circumstances of the case. Thus, we impose costs of R1 lakh on DPCC," the bench said.
The tribunal also said that "all (government) authorities have failed to fulfil their duties".
Read | Art of Living event an ecological disaster, says Delhi high court