We can grow on 'strong shoulders' of states, not from Delhi alone: Modi
Dec 04, 2015 06:52 PM IST
Stressing the role of states in powering the country's growth engine, Prime Minister Narendra Modi on Friday unveiled his agenda for the development of eastern states, which, he said, have the potential for a "second green reviolution".
India can grow only on the "strong shoulders" of its states and not from Delhi alone, Prime Minister Narendra Modi said on Friday, making a strong case for development of the country's industrially underdeveloped eastern region.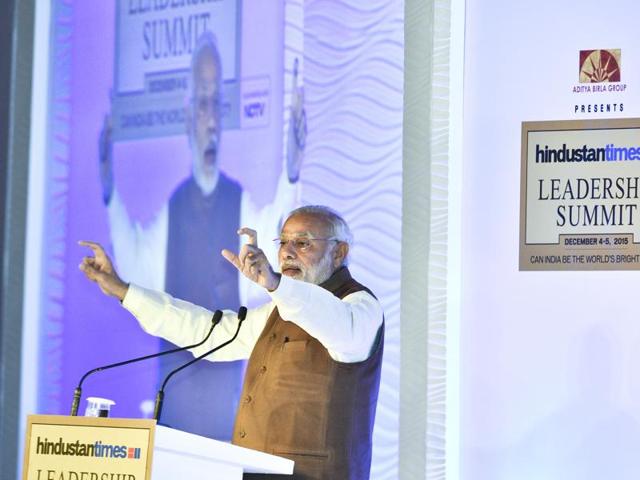 "The world cannot understand what we mean when we say India. They know, at the most, Mumbai, Delhi, Kolkata, and Bangalore after the IT revolution. It is important that the world recognises our states. The states have their own strengths," the Prime Minister said in his address at the HT Leadership Summit.
He, however, saw hope in states like Jharkhand, Chhattisgarh and Odisha, once among the most backward economically and on social indicators, coming up on tops in recent rankings on 'ease of doing business' in India, often seen as an important barometer helpful in enticing investors.
Since assuming power last year, the NDA government has reached out to the states, seeking their greater involvement in policy-making as part of a bridge-building mechanism Modi calls cooperative federalism. Many have lauded the idea as something that could put an end to a tradition of confrontational politics between the Centre and states that hobbled development.
Towards that end, he abolished the Nehru-era institution Planning Commmission and replaced it with the Niti Aayog (National Institution for Transforming India), which is mandated to take into account the states' aspirations in devising policy and suggesting funding.
Read| Not one, but many right ways to achieve reforms: Modi to India Inc
To buttress his arguments on equitable development, Modi gave the analogy of a bicycle saying it can't run if a part of the tube balloons up though the metre will still show the correct reading.
"The air has to be distributed uniformly," he added.
Stating that the roots of a second Green Revolution could be sown in the eastern states and Uttar Pradesh, Modi said the NDA government was working towards bringing the fruits of development to these regions.
For instance, the government recently secured FDI worth Rs 40,000 crore for two locomotive factories in Bihar, he said.
To increase participation of the states, Modi exhorted them to set up export processing zones of their own.
"Till now Delhi decided where states will spend money. This has changed and now chief ministers decide where money will be spent, Modi said.
To link states with the world outside, the NDA regime has also decided to set up a separate department for states in the ministry of external affairs, he added.