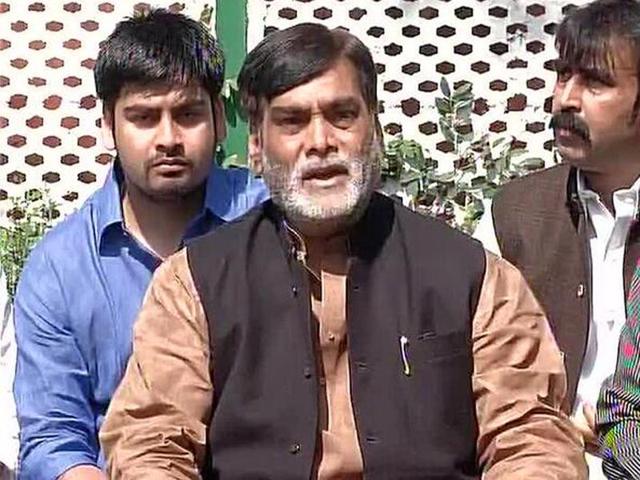 Lalu loyalist Ram Kripal Yadav resigns from party posts over ticket row
RJD legislator Ram Kripal Yadav resigned from all party posts on Saturday saying the RJD had attempted to emotionally blackmail him by using Lalu's daughter to lull him by a false promise.
UPDATED ON MAR 08, 2014 02:13 PM IST
Rashtriya Janata Dal (RJD) chief Lalu Prasad's close aide Ram Kripal Yadav resigned from all party posts on Saturday after he was denied a Lok Sabha ticket from Pataliputra in Bihar saying the party had attempted to emotionally blackmail him.
Yadav had gone into a sulk on Thursday after Prasad read out a list of 25 candidates for the 27 constituencies RJD and blamed dynastic rule and rule and lack of respect for senior leaders in the party.
Yadav, who has been close to Lalu Prasad for over two decades, wanted to contest from the Patliputra constituency.
Prasad had nominated his eldest daughter Misa Bharti to fight the polls from this constituency, where he had himself been a candidate in 2009 and lost it by to his former friend turned foe, Ranjan Yadav, the Janata Dal (United) candidate by 10,000 votes.
Yadav told reporters on Saturday he has not resigned from the party membership and has not resigned from Rajya Sabha as well adding that all avenues were open to him now, though he would resign from the Rajya Sabha seat at an appropriate time.
"I thought the party believed in social justice. But I know, it can go to any extent to fulfil family justice, the reason why I leave today," he added.
Read: Ram Kripal Yadav did not tell the whole truth: Misa Bharti
"I gave my life to build this party and stuck with it through thick and thin, when others left. I have fought for the same seat five times in a row, won it three times. The party indeed honoured me. But this time, it went too far in not even consulting me on seat allocation. I could take it no more," Yadav, who broke down twice during the media conference, said.
Prasad had despatched Misa to Delhi to mollify Yadav on Friday but the latter refused to meet his "neice". Misa had communicated that she was willing to let go of all claims to Patliputra should Yadav wish to fight.
Yadav, taking her words as an offer, climbed down late on Friday and flew back to Patna only to be told by Prasad, that "horses could not be changed midstream", thereby sealing Misa's candidature for Pataliputra.
"It now appears, sending Misaji to reason with me was the party's strategy to emotionally blackmail me. For a simple man, not given to strategems and one, who does not even own a home despite having been in politics for so long, was too hard to take," said Yadav.
Yadav said, "When a daughter like Misa Bharti came calling and appealed to me through TV channels to stand for the seat, adding she herself would campaign for me, I wanted only a confirmation with the party chief, which never came."
He said, "It was communicated through media again, that the party chief (Lalu) had said 'horses cannot be changed mid-stream', which is when I got the message. I had been in deep pain for the last five days. For a person who gave his sweat and blood, without asking for anything in return, such a cold shoulder was traumatic enough to take".
He said he was an MP from the Patna constituency in 2009 when the party chief showed interest in the seat.
"I gave it over without arguments. The party nominated me as an MP to Rajya Sabha, for which I am thankful. But, last year, when I told him that should he or Madam (Rabri) choose to fight from the reconstituted Pataliputra, I would be happy to campaign for them."
Read: Lalu rushes daughter Misa to Delhi to pacify Ram Kripal Yadav
"I never thought at any time to backstab my leader or any party or to join any other. Pataliputra area has remained my workplace. But to use my sentiments by using my daughter, is not done," he said.
It was widely speculated that he had been offered a ticket by the Bharatiya Janata Party - either from Pataliputra or Madhepura - even as another JD(U) MLC, Nawal Kishore Yadav, who is an aspirant for the Patliputra seat as a BJP candidate followed him to Delhi.
Sources within the party said that the RJD had communicated to Yadav that should he wish to fight from Madhepura, the party was ready to field him.
However, Yadav's decision to resign from all posts on Saturday made it clear, that he had had enough.
Yadav was joined by Gulam Gauss, the leader of the party in the Bihar Council, who said Prasad had undermined the leadership preferring his family over committed workers and that he was creating a Sheikhdom with upper caste Muslim leaders and leaving out the vast Muslim population.
Yadav's resignation would definitely weaken the RJD ahead of the Lok Sabha elections, which could have benefited from his wide contacts and popularity in Pataliputra, Patna Sahib constituencies and even Raghopur, an assembly constituency within Ram Vilas Paswan's Vaishali.
Should he be fielded by the BJP, as is possible, even Paswan would benefit, though the vast Yadav constituency seems stuck with the Lalu-Rabri couple for now.
Close