Land grab complaints back to haunt Yeddyurappa
Updated on Oct 21, 2014 04:52 PM IST
Karnataka high court orders Shimoga special lokayukta court to investigate two complaints in which the former chief minister has been accused of illegally acquiring two large tracts of land in his home district.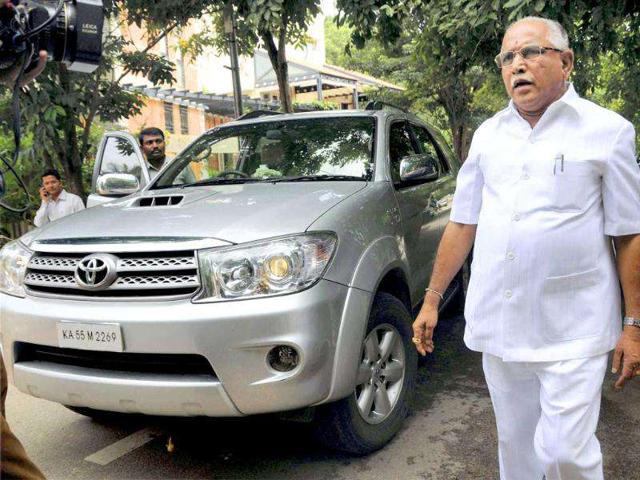 Hindustan Times |
, Bangalore
Sudipto Mondal
The Karnataka high court on Tuesday ordered the Shimoga special lokayukta court to investigate two complaints accusing former chief minister BS Yeddyurappa of illegally acquiring two large tracts of land.
Both land tracts are in Yeddyurappa's home district Shimoga. Yeddyurappa, the Bharatiya Janata Party's (BJP's) national vice-president represents Shimoga in the Lok Sabha.
The case, which was filed before the lokayukta court by activist B Vinod in 2012, was held up after the court ruled that an investigation could not be conducted without sanction from the speaker of the legislative assembly.
Terming the decision of the lokayukta court "bad in law", justice Anand Byrareddy of the high court ruled that no prior sanction was required in corruption cases.
In one complaint, Vinod has attached documents showing that four Karnataka Housing Board (KHB) residential plots meant for journalists were allotted in June 2007 to employees of an educational institution run by Yeddyurappa in Kalahalli, Shimoga.
The plots were later transferred to Aruna Devi, Yeddyurappa's daughter. Yeddyurappa was the deputy CM at the time in the Janata Dal (Secular)-BJP coalition government.
In the second complaint, Vinod has produced certified documents showing that Yeddyurappa purchased 69 acres in Hunisakettte village near the Bhadra Wildlife Sanctuary in the name of his frontmen in 2009 when he was Karnataka CM.
His men allegedly encroached another 15 acres of sanctuary land and erected a compound wall around the property. The property was later transferred to Davalagiri Properties Pvt Ltd owned by Yeddyurappa's sons, BY Raghavendra and BY Vijayendra, and son-in-law RN Sohan Kumar.
The lokayukta probe will be the latest challenge for Yeddyurappa, who quit the BJP in 2012 to float a party, but returned in January — ahead of the 2014 Lok Sabha polls.
He had been forced to quit as CM in July 2011 after being indicted by the then lokayukta N Santosh Hegde on charges of corruption in a mining scam. Yeddyurappa is credited with forming the BJP's first government on its own in Karnataka in 2008.
Complaint against Eshwarappa too
The high court also ordered the lokayukta court to complete investigations into a disproportionate assets case filed by Vinod against senior BJP leader KS Eshwarappa, who became the deputy CM after Yeddyurappa's arrest in a separate set of corruption cases.
In his complaint, Vinod has alleged that Eshwarappa's assets grew thousand-fold between 2006 and 2010.
During this period, Eshwarappa had stints as the water resources minister in the JD(S)-BJP government, power minister in the Yeddyurappa government, BJP state president as well as deputy CM. The complaint cites Eshwarappa's humble beginnings, stating he once sold sweets for a living.
Personalise your news feed. Follow trending topics