'Law and order' issues: DU college denies entry to GN Saibaba in campus
Updated on Apr 29, 2016 01:27 AM IST
Delhi University professor G N Saibaba was suspended from DU following his arrest by Maharashtra Police in 2014 for alleged Maoist links.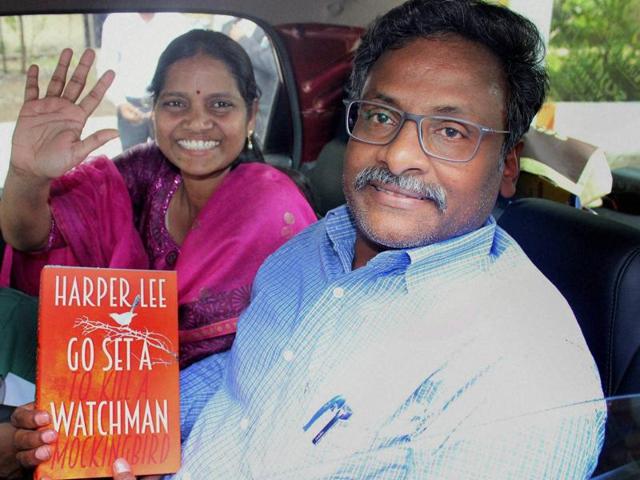 Hindustan Times |
, New Delhi
HT Correspondent
HT Correspondent
htreporters@hindustantimes.com
New Delhi: Professor G N Saibaba, arrested in 2014 by Maharashtra police for alleged links with Maoists, has
been told not to enter Ram Lal Anand College without permission to prevent law and order problems.
Ram Lal Anand College principal Vijay K Sharma issued the order in a letter to Saibaba. Sharma said violation of the order would be considered as "misconduct and interference in the activities of the college".
The college recently formed a one-member committee to look into the issue of revoking the suspension of Saibaba, an assistant professor of English.
The 90% disabled teacher of English, who was granted bail by the Supreme Court on April 4, reported to the college recently and sent a letter to the principal to initiate his reinstatement.
Sharma said it was reported that Saibaba had come to college and interacted with students. "The governing body has taken serious note of your above said unauthorized conduct of entering the classrooms during suspension without any permission from the competent authority," the college principal said.
The letter said that Saibaba's entry inside the classroom was unwarranted as during suspension he was not supposed to teach.
Saibaba was suspended by the college on May 15, 2014, five days after he was arrested by Maharasthra Police for suspected Maiost links.
Last week, the college convened an emergency Governing Body (GB) meeting to discuss the issue of reinstating Saibaba and revoking his suspension.
"A one-member committee has been formed to look into the issue of his reinstatement. We will take a decision based on the recommendation of the committee," Sharma said.
Personalise your news feed. Follow trending topics