PM Modi's Lahore surprise: The phone call that started it all
Dec 26, 2015 10:02 AM IST
A short telephone conversation to wish his Pakistani counterpart a happy birthday culminated in Modi's visit to Lahore, sources said.
At 1.30 pm on Friday, external affairs minister Sushma Swaraj received a call from Prime Minister Narendra Modi, who was winding up his visit to Afghanistan.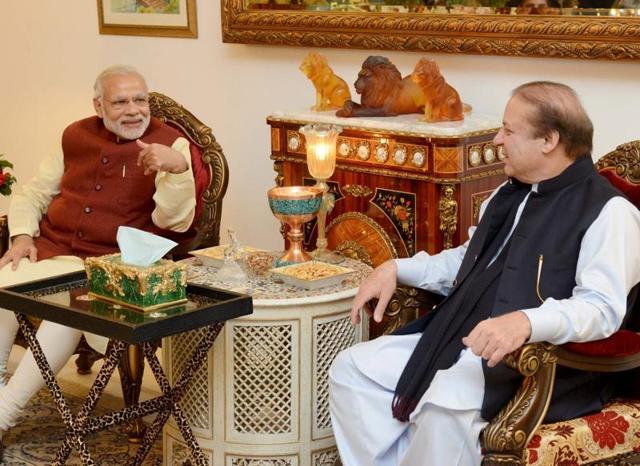 The PM had called to apprise her of his conversation with his Pakistani counterpart Nawaz Sharif.
It was Sharif's 66th birthday, and Modi told the minister that he had called the Pakistan PM from Kabul to greet him. "You are in Kabul. Why don't you come home (Lahore)?" Sharif told Modi. This short telephonic conversation, revealed by top official sources, is what set the stage for Modi's unscheduled visit to Pakistan—the first by an Indian Prime Minister in 11 years.
"Modiji is known for out-of-the-box initiatives, starting from his invitation to SAARC leaders for his swearing-in ceremony…He called up the Pakistan PM to wish him and the latter invited him to come to Lahore as it was in the neighbourhood. It was a bold decision to go. Only a strong leader like Modiji could take it," said BJP spokesman Shrikant Sharma.
In Islamabad, foreign secretary Aizaz Chaudhry had a slightly different take on the events –— he told reporters that Modi had asked Sharif if he could stop in Pakistan on the way home. "And the PM said to him, 'Please come, you are our guest, please come and have tea with me'," Chaudhry said.
According to a Pakistani foreign ministry official who was present when the two leaders meet, Sharif told Modi: "So, you have finally come."
The official said Modi replied, "Yes, absolutely. I am here." Sharif 's sprawling farmhouse at Raiwind, decorated for his granddaughter's wedding on Saturday, was the venue for the meet.
Amid efforts by the two sides to project the meeting as a spontaneous development, analysts noted there were indications of behindthe-scenes preparations for it. Long before the Modi-Sharif call, Pakistan seemed to be preparing the grounds for the visit. Pakistan's High Commissioner to India Abdul Basit left for Islamabad on Wednesday, sources said.
Some sources said Modi's Lahore stopover was planned almost a week in advance but was kept under wraps. "Those who practise the art of diplomacy know some surprises are not really that," a source said without giving details.
Another source said planning was done to make the visit a "grand occasion" in symbolic terms.
This included the visit coinciding with the birthday of both Sharif and Vajpayee, the last Indian premier to go to Pakistan and the celebrations linked with Sharif 's granddaughter's wedding.