Nitish struggles for a 'new identity' via Arvind Kejriwal
Updated on Jul 20, 2015 10:36 AM IST
Facing a crucial assembly polls, shaping up as a do-or-die political battle for all, Bihar CM Nitish Kumar is keen on projecting himself as truly 'clean', 'secular,' and 'pro-poor'.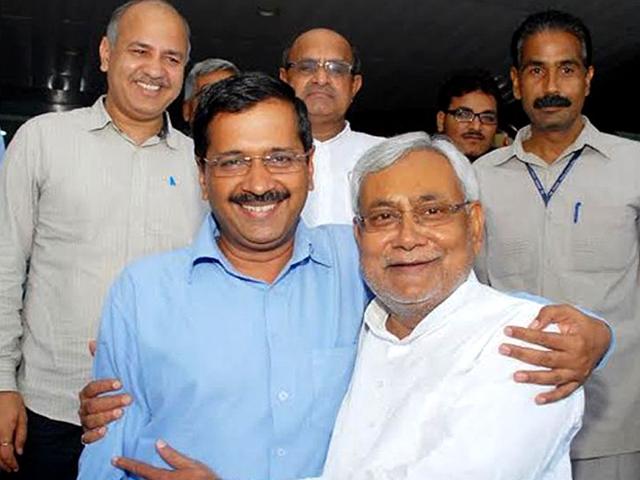 Why is Bihar chief minister keen on getting Aam Aadmi Party (AAP) leader and Delhi chief minister, Arvind Kumar Kejriwal on his side?
While the Kumar- Kejriwal meeting has kicked up a storm, the consensus is, that facing a crucial assembly polls in September- October, which is shaping up as a do-or-die political battle- both for the NDA and the Grand Alliance of JD-U, RJD and Congress- Kumar is keen on projecting himself as truly 'clean' and 'secular,' and 'pro-poor'.
Politicians like BJP state president, Mangal Pandey, argue that 'it is a desperate move of an administration deeply into corruption.'
Pandey's criticism may not be entirely correct, but underwrites the fact, that Kumar, having joined taint scarred Lalu Prasad, is completely conscious of the fact that he is saddled with a baggage, that is not entirely to the liking of the Bihar electorate, which had joined him to throw off the Lalu-Rabri regime that ruled the state for 15 long years.
Long time friend turned adversary of the Bihar CM, former MP Shivanand Tiwary agrees. "Kejriwal's emphasis on clean politics, which was supported by Bihar migrants and the Muslim support the Delhi CM enjoys, could be a draw", he told HT, adding, "It is pretty discernible, that despite being with the RJD, Kumar is at pains to demonstrate that he is 'different and Prasad's taint cannot rub off on him."
In Patna, however, the AAP-JD(U) bonhomie has not gone down well with AAP followers. Its leaders said, they were 'against' Kejriwal supporting Kumar in any way.
Prominent AAP face, Parveen Amanullah who quit Kumar's cabinet before the last Lok Sabha polls and stood as a candidate from Patna Saheb constituency, said "I would surely oppose such a move".
Amanullah while quitting the cabinet had claimed that her tenure as a Kumar cabinet minister had been stifling and the system had such limitations that it did not allow her to work around it.
One of the two Muslim women to be elected on a JD(U) ticket from Sahebpur-Kamal assembly constituency, Parveen told HT, "This is an attempt by Kumar to show himself as spotless. But that image is by far gone. Those who were glued to AAP via Anna Hazare's movement for Swaraj, will not have it, ever," she said.
A section of the AAP, which broke away to form Aam Aadmi United to fight Bihar elections in a 'limited way', believes that any part in Bihar elections could compromise AAP. "It was because of such approaches, that committed AAP members have moved away to a new party", said Basant Kumar Choudhary, a lawyer and convenor, who is now close to the breakaway group led by Yogendra Yadav, ex-AAP conscience keeper.
While AAP is not fighting the Bihar elections this time for fear of over- reaching itself, its vote share of just 0.9% during LS polls despite fielding 39 candidates, does not point to it being a political force.
Kumar's gambit in cultivating Bihar thus lies in the sheer Bihar migrant numbers in Delhi and NCR region, which stands at 12 lakh plus and who have roots in the 243 assembly constituencies of the state and would be back in Bihar for the Durga puja-Deepawali, Chhath, Eid season , when they would also vote.
This Bihar migrant population, mainly living in shanties and irregular colonies without water or power supply in Delhi had rooted for Kejriwal and been benefited. JD-U strategists feel, a call from Kejriwal would spur these numbers, especially Muslims, to back Kumar and contrast him with other parties, even Lalu Prasad, as the standalone honest candidate for Bihars CMship.
BJP leader Sushil Kumar Modi argued, that 'such a ploy will not work' when the regime faces charges of corruption in high places.
"Events have shown that even AAP is facing a huge moral crisis with its ministers and legislators being caught in scams. It is no more as convincing. Bihar migrants could vote en bloc in Delhi without being conscious of their caste or background, but back in the state, they find it difficult to beat the divide. The dynamics here is different", he said.
Hindustani Awami Morcha-Secular leader, former CM Jitan Ram Manjhi said, "A regime neck deep in estimates scam and inflating expenditure cannot be clean. Kejriwal would do well to beware such allies".
Would then Kejriwal join the campaign for Bihar?
KC Tyagi, JD-U MP and spokesman feels 'its possible'. "AAP could very well campaign for us", he said. JD-U rivals take it as an 'impossibility'.
But AAP insiders say, 'it's not decided yet' what with Prasad on JD-U bandwagon with a taint that will not go away. That is a dilemma, only AAP can resolve as it also cultivates Kumar for its own fight against the Centre and for full state status.
Personalise your news feed. Follow trending topics