Paes gives Vishnu the perfect birthday gift
A call from Leander Paes late on Saturday night was the best birthday present Vishnu Vardhan could have hoped for, reports Sukhwant Basra.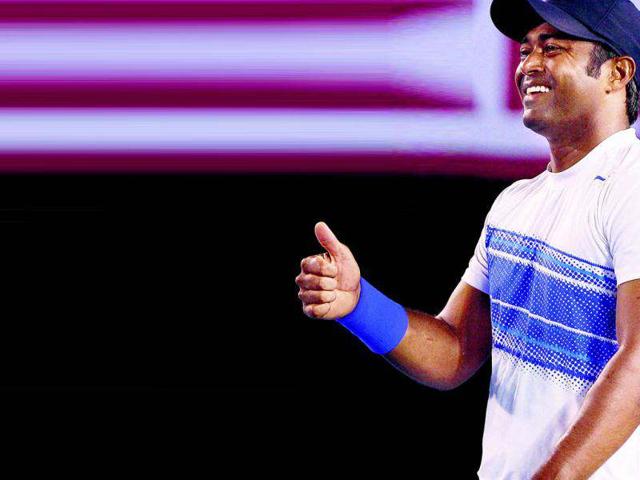 Updated on Jul 30, 2012 01:47 AM IST
Hindustan Times | By Sukhwant Basra
, London
A call from Leander Paes late on Saturday night was the best birthday present Vishnu Vardhan could have hoped for. Paes had learnt from an official that world number 23 Philipp Kohlschreiber had pulled his right hamstring at a Tour event in the US and was withdrawing from the singles draw of the Olympics.
The rules state that in case one of the players withdraws after the draw has already been made, then the highest ranked player on site gets in as an alternate.
Now, there are higher ranked singles players than world number 302 Vardhan around at Wimbledon but with his grasp on the nuances of the rules, Paes informed the bewildered 25-year-old that he had a great chance as all those ranked higher than him were from countries which already had four players in the singles main draw. A nation can't have any more as per the format for Olympics.
"It was an incredible opportunity for Vishnu and I was keen to ensure that he gets singles exposure at this high level too. It will help him grow in confidence as a player," said Paes.
"Nobody knew that I had a chance of getting in till Leander called. The sign-in for alternates was open till 11 in the morning. I hardly slept and was on site by 10. Next thing I knew I am playing singles at the Olympics!" a visibly elated Vardhan told HT.
"I would have never bothered had it not been for Leander's call for, players from France, Argentina and Spain were all higher ranked than my 302 standing. But then those nations already have four players in the draw, a rule that I only figured after Leander told me."
After the call, the national federation and team captain SP Misra ensured that the necessary formalities to put in a request were completed with alacrity.
Not only did Vardhan get into the draw, he is also pitted against a player that he is confident of doing well against — Slovenia's Blaz Kavcic who has got in on a wildcard. "Last I played him two years ago, I lost in two close sets. On grass with a much-improved serve, I do fancy my chances."
It's getting to be quite a run of luck for Vardhan, who first got into the doubles draw only because he was paired with Paes. Now, he'll figure in the singles for he happened to be at the right place at the right time with a whole bunch of diverse factors colluding to make him the first alternate choice despite his low ranking.
"He couldn't have wished for a better draw," added Mahesh Bhupathi, visibly happy at the player's good fortune.
Close Story