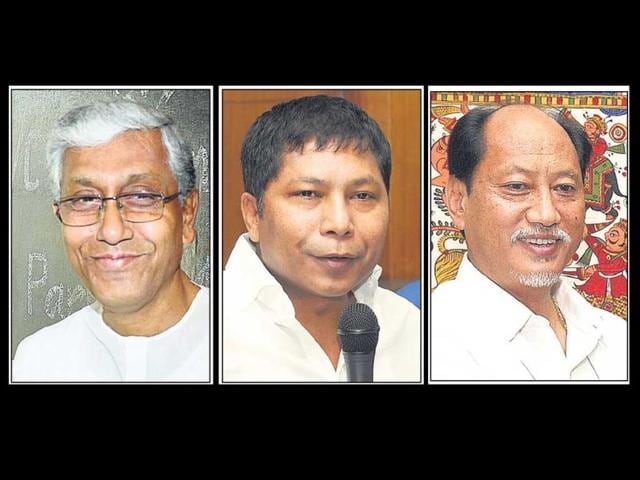 Performance pays
The results of the assembly polls in three northeastern states show that voters are willing to back leaders who can provide political stability. Subir Bhaumik writes.
None | By Subir Bhaumik
UPDATED ON MAR 03, 2013 11:30 PM IST
The assembly elections in the three northeastern states of Tripura, Nagaland and Meghalaya have reflected a trend that is becoming preponderant elsewhere in India. Gone are the days when incumbency was seen as a natural liability. There were exceptions to this trend like West Bengal where the Left ruled for more than three decades before being ousted in 2011 by the Trinamool Congress. But now states like Gujarat and even Bihar have rewarded effective governance by returning parties which delivered to power. Chief ministers like Narendra Modi and Nitish Kumar have won elections comfortably because people see them as effective leaders who can rule and deliver.
Tripura is a classic case in point. Nobody in the tiny state expect the ruling Left Front or chief minister Manik Sarkar to transform the state's economy overnight and provide employment to its growing army of unemployed people. There are huge limitations of geographical remoteness, lack of capital and natural resources. Since 1980, the state has faced violent tribal insurgency and ethnic conflict between indigenous tribespeople and Bengali settlers. There was a time in the late 1990s when 30 to 40 people, even more, would be kidnapped or killed in a week by the separatist rebels, including MLAs and ministers.
Sarkar and his cabinet colleagues did not leave it to the Centre to handle the problem, as other states in the North-east are prone to do. With a mix of tough police action, political manoeuvres and development initiatives, the state pushed the insurgents to the wall and then decimated them. There are reports that Sarkar even authorised trans-border operations using surrendered rebels to hit at insurgent bases in Bangladesh. The change of the regime in Dhaka helped as Prime Minister Sheikh Hasina's administration cracked down against all North-east Indian rebels in her territory.
Tripura's majority Bengali settlers (now 70% of the total) welcomed the end of the insurgency which happened without any political cost. Even the tribespeople, who were victims of rebel excesses, seem to react positively: the regional INPT party led by former militant leader BK Hrangkhawl failed to secure a single seat in this election.
Sarkar has effectively used his improved relations with Bangladesh's present regime to transport heavy equipment for implementing the 700-MW Palatana gas-fired power plant, generating hopes of a new corridor of development. There is corruption in Tripura but it's much less than in neighbouring northeastern states and Sarkar's clean personal image helped his cause. Last, the Congress did not have a leader of Sarkar's stature who could have been projected as an alternative.
Neiphiu Rio's triumph in Nagaland is attributed to a perception that a settlement of the Naga problem through negotiations between the NSCN and the Union government may be easy to implement with Rio at the top. After five decades of insurgency and bloodshed, Nagas suffer from conflict fatigue and look forward to a durable settlement that has so far proved elusive. But so long as there is hope and the negotiations continue, Nagas have something to look forward to. The problem is not easy to solve, specially because Delhi has run out of ideas on how to handle the NSCN demand for integration of Naga-predominant areas in other states bordering Nagaland. But Rio is seen as a Pu Lalthanhawla who gave up his chief ministership to pave the way for a settlement between Delhi and the MNF in 1986. No wonder Lalthanhawla is back in power in Mizoram.
The Congress in Nagaland is seen as a possible obstacle to the peace process, while Rio is seen as a facilitator. As they say, only those who have seen war know the value of peace. Sarkar's peace card in Tripura and Rio's in Nagaland may have different dynamics but they reflect the people's yearning for peace at all cost in these far-off troubled lands. And leaders who deliver on peace or are seen as capable and intent on delivering on peace get the support of the people, as Sarkar's and Rio's improved victory margins reflect.
In Meghalaya, the Congress has done well to be able to form the government with chief minister Mukul Sangma again in the hot seat. The voters in Meghalaya are also fed up with legislative instability and are willing to try out a party with an effective leader rather than put their eggs in different baskets. Sangma joins the select brigade of Congress chief ministers in the North-east - Assam's Tarun Gogoi and Manipur's Ibobi Singh being the others - who have beaten incumbency by projecting a strong local face and displaying a sense of purpose. But like Gogoi and Ibobi Singh, Sangma has also benefited from a weak regional opposition and the relative absence of other national parties in the state.
Subir Bhaumik, journalist and author, is now Senior Fellowat the Kolkata-based Centre for Studies in International Relations & Development
The views expressed by the author are personal
Close