Snapdeal employee returns home 36 hrs after shocking abduction
Feb 12, 2016 08:04 PM IST
A 24-year-old Snapdeal executive who went missing near Ghaziabad two days ago told police on Friday she was abducted by four men she was sharing an auto with on her way home from a local metro station.
A 23-year-old woman working with e-commerce major Snapdeal, who was abducted from Vaishali Metro station in Ghaziabad two days ago, returned home unhurt on Friday.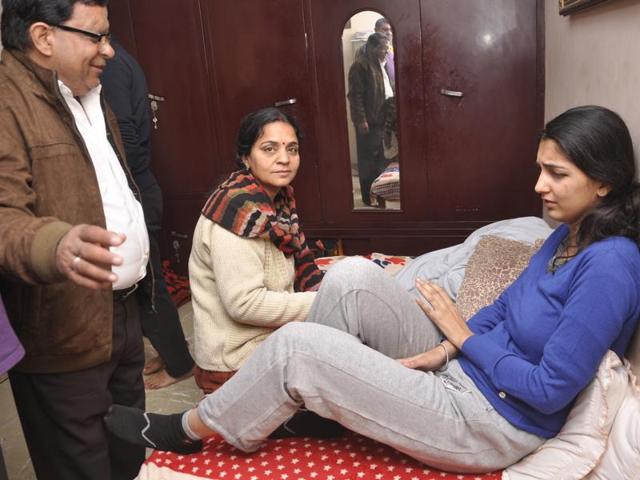 Deepti Sarna called up her family to tell them that she was on a train from Panipat in Haryana.
The woman told police that she was abducted by four men she was sharing an auto with on her way home from the Metro station.
Ghaziabad senior superintendent of police Dharmendra Singh said the men were illiterate and appeared to be petty thugs who were spooked by the 200-men hunt and massive media coverage to locate Dipti.
"The men don't appear to have physically harmed Dipti. She is being given some time to rest. The investigation is on and we will prepare a sketch of the four men," he said.
Watch | Abducted Snapdeal employee returns home
An executive with the e-commerce major's legal department since April, Dipti took a shared auto from the Metro station at 7.42pm on Wednesday. But the vehicle broke down halfway at Mohan Nagar, forcing the passengers to board another auto to the old bus stand in Ghaziabad.
But minutes later, the only other woman passenger in the auto was forced to get off at knifepoint by the four men in the vehicle, somewhere near the Hindon river.
The men snatched Dipti's bag and mobile but not before a friend she was speaking with on the phone heard her scream. The men then drove the auto to a secluded area in Raj Nagar extension.
As pressure mounted on the abductors with multiple police search teams and intense media coverage, the men didn't take the risk of stopping at a hideout for the night.
"They travelled with Dipti the entire night, sometimes in an i10 car, sometimes on a bike. They made Dipti walk around 10km," senior officer Singh said.
Read | Here's how Snapdeal used Twitter to help locate abducted Dipti Sarna
Early in the morning, the men brought her to a suburban railway station and made her board a Delhi-bound train, setting her free.
"Around 3-4 stations later, she recognized Narela station and borrowed a mobile phone from a passenger and used it to call her family," Singh said.
Deepti's father Narendra Sarna, a resident of Kavi Nagar, said she called him in the morning and told him that she was in train in Panipat and coming to Vaishali.
"I told her I will come to New Delhi railway station to pick her. I don't know how she came (managed to escape). She was found sitting in the train. I don't know whether she was in trauma," he told reporters.
Ghaziabad police intercepted Sarna's car and escorted them to Vaishali police station for questioning.
Earlier, when police failed to trace the girl even after 30 hours, residents staged a protest by blocking roads and held a sit-in at Hapur road outside the SSP's office.
(with agency inputs)