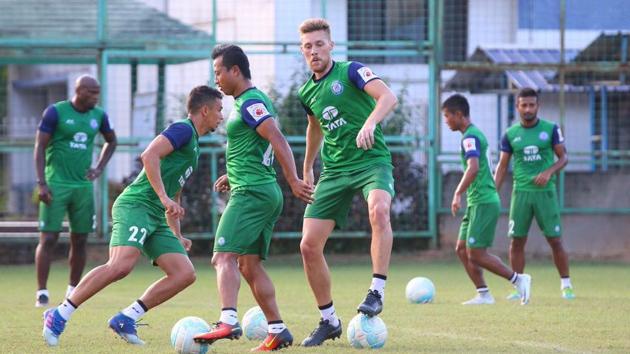 Indian Super League: Rookies Jamshedpur FC look to make a mark
Jamshedpur FC will be playing their maiden Indian Super League this year. Steve Coppell is their coach.
UPDATED ON NOV 12, 2017 09:42 AM IST
Birth pangs have been leavened by the coaching staff's familiarity with football in India, said Jamshedpur FC coach Steve Coppell.
The former England winger moved from Kerala Blasters and took with him assistant-coach Ishfaq Ahmed, who also played the ISL 3 final, Haiti international Kervens Belfort, Farukh Choudhary and Mehtab Hossain with him. Ahmed's inputs and those of people who seem to have spent a lifetime analysing players have come in handy, said Coppell.
READ | Indian Super League: Need more incentive for topping league phase - Steve Coppell
The new franchise, also the only one to own their stadium, also made the most of two early picks in the players' draft by getting central defender Anas Edathodika for Rs 1.10 crore and goalkeeper Subrata Paul, both India players, for Rs 87 lakh.
They have also given talented but injury-prone striker Ashim Biswas, 35, a life-line and a first ISL team, 13 years after he played for India. With no India striker on their roster, a lot could ride on Belfort. The backline is likely to be anchored by Tiri and Edathodika and JFC will hope Andre Bikey can anchor the midfield.
READ | Indian Super League 2017-18 full schedule: ATK vs Kerala Blasters in ISL opener
A new team would have a lot of catching-up to do in a competition that turns four but Coppell said the "boundaries between the teams are very narrow." Budget caps, all but two teams changing coaches and many players switching sides too may reduce the disadvantage of being a debutant.
COACH
STEVE COPPELL: A respected name in management, the former England winger has had a greater say in shaping the roster than last year and given what he achieved with a team lacking in balance can only be a good thing to put Jamshedpur on India's football map.
READ | ISL player draft: Teams spend big on defenders, strikers take backseat
KEY PLAYERS
Tiri: This is what Jose Luis Espinosa Arroyo, 26, is known as. The central defender, who was a rock in ATK's defence for two years, has moved after playing for Marbella in the second half of the Spanish season. Not being part of a Spanish set-up, like he was at ATK, would help him grow and improve his English, among other things, he said. A lot would depend on how he teams with Anas Edathodika.
READ | Indian Super League: Jamshedpur FC sign Steve Coppell as head coach
Andre Bikey: He is multi-lingual, seamlessly shifting from French to English to Spanish. JFC would hope he brings in such versatility on the pitch. A big unit, he could be slotted in central midfield and, if required, in central defence. The former Cameroon defender, who played under coach Coppell at Reading, missed ISL3 due to injury.
Sameehg Doutie: His speed was ATK's asset and he had the Salt Lake stadium roaring everytime he hared down the right. Having Coppell, a winger himself, as coach will improve his game, the South African said. This being a new franchise, everyone will have to give their 150%, he said.
Close