IPL 2017: Eden Gardens now has a stand in memory of Indian Army bravehearts
Apr 28, 2017 08:05 PM IST
Before the Kolkata Knight Riders and Delhi Daredevils IPL 2017 match on Friday, four Eden Gardens stands were officially named after Indian Army martyrs Colonel Neelakantan Jayachandran Nair, Havildar Hangpan Dada, Lieutenant Colonel Dhan Singh Thapa and Subedar Joginder Singh
A day after Kolkata Knight Riders captain Gautam Gambhir announced his foundation would take care of education of the children of CRPF personnel killed in the line of duty, his temporary home, the Eden Gardens, unveiled four stands named after martyred soldiers. (KKR vs DD: T20 MATCH BLOG)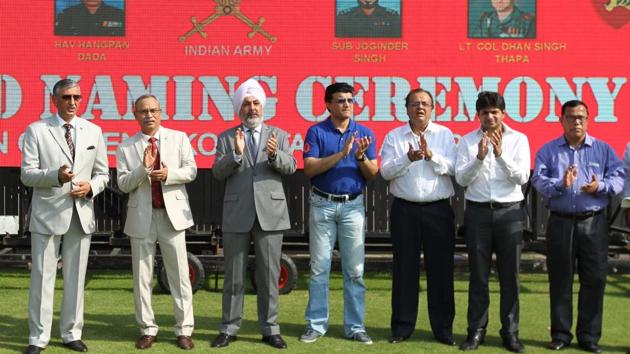 Before the Kolkata Knight Riders and Delhi Daredevils started the 32nd match of the 10th Indian Premier League on Friday, four stands were officially named after Colonel Neelakantan Jayachandran Nair, Havildar Hangpan Dada, Lieutenant Colonel Dhan Singh Thapa and Subedar Joginder Singh. (KKR vs DD: T20 MATCH SCORECARD)
The stands were unveiled by Cricket Association of Bengal (CAB) president Sourav Ganguly, Lieutenant-General Praveen Bakshi, PVSM, AVSM, VSM, ADC General Officer Commanding-in-chief Eastern Army Command among others.
Arunachal Pradesh's Dada, who was with Assam Regiment, gave his life while combating suspected intruders in Naugram, north Kashmir last year. He was awarded the Ashok Chakra posthumously, according to a report on the CAB's website. The stand after his name was unveiled by Ganguly.
Nair was with the 16 Maratha Light Infantry and died in Nagaland in 1993, ambushed by 100 armed insurgents while negotiating a series of road bends on the Mokokchung-Mariani Road in Nagaland. He was awarded Ashok Chakra and Kirti Chakra posthumously. Lt Gen. Bakshi did the unveiling.
Singh, who refused to evacuate despite being injured and held on a defensive position in the north-east, too was awarded Param Vir Chakra posthumously. His name was unveiled by Lieutenant General Dushyant Singh, chief of staff, Head Quarters Eastern Army command and CAB joint-secretary Subir Ganguly.
Thapa, who was involved in the Chinese war of 1962, was with the Gorkha Rifles. He too got the Param Vir Chakra. His name was unveiled by Lieutenant General Giriraj Singh, General Officer Commanding, Bengal Area and CAB joint-secretary Avishek Dalmiya.
The Eden named stands after cricketers and cricket administrators on January 22 during the One-day International against England. Those after whom stands were then named are: Sourav Ganguly, BN Dutt, Jagmohan Dalmiya and Pankaj Roy.
On that day it was announced that stands would also be named after soldiers as the stadium is in the Maidan area which is under the Indian Army.