IPL 2017, T20, Highlights - Hardik Pandya, Nitish Rana help Mumbai Indians clinch thriller vs Kolkata Knight Riders
Updated on Apr 10, 2017 01:41 AM IST
Hardik Pandya's quickfire 29-run knock and Nitish Rana's 50 helped Mumbai Indians clinch thriller vs Kolkata Knight Riders by four wickets at the Wankhede Stadium. This was MI's first win in the 2017 Indian Premier League. Get full cricket score of Mumbai Indians vs Kolkata Knight Riders here.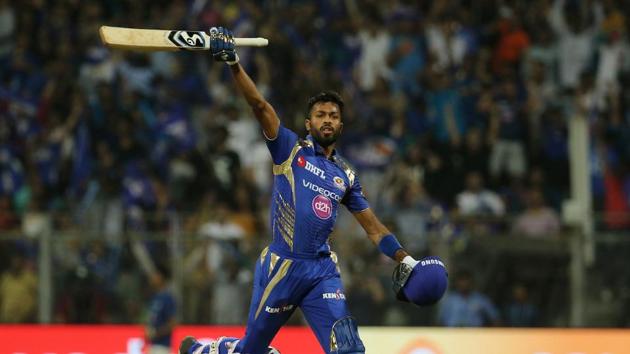 Mumbai Indians beat Kolkata Knight Riders by four wickets to seal their first win in the 2017 Indian Premier League. Chasing a target of 179, MI lost wickets at regular intervals in the middle-overs but Nitish Rana and Hardik Pandya kept their cool and guided their team to victory with a ball to spare. Earlier, Manish Pandey's unbeaten 81-run knock helped KKR post 178/7. For MI, Krunal Pandya took three wickets. Catch full cricket score of Mumbai Indians vs Kolkata Knight Riders here. (IPL 2017 Full coverage) (SCORECARD)
11:59 pm IST: That's it. Thank you for joining us. Until next time, it's goodbye. Cheers!
Rohit: "Winning the game was important. We're known for this - we keep people on their toes. Very happy with this win. Here at Wankhede, we back our players to get the runs with the dew coming in and the flat pitch. We were hoping Rana and Hardik would finish it off and they did. It's important for any team to have young players come in like that and finish the job. I hope they repeat it. There's still room for improvement. We don't want to be in the back seat. We know the things we didn't do well today and we'll go back to the drawing board before our next game."
Gambhir: "We put a good score on the board in the last three overs. But Hardik and Rana played unbelieavable innings. If we'd taken Hardik's catch, anything might have happened. We back our bowlers to do the job. Woakes and Boult are experienced too. It's just a matter of keeping our nerves calm. We panicked a little in the end with the misfield and the dropped catch. It's a good chasing ground - you could chase anything. There was a bit of dew on the ground that didn't make it easy for spinners either, but we needed to hold our nerves in the end. I have no update on Lynn, haven't heard from the physio yet."
11:49 pm IST: FOUR! And that's it. MI win by four wickets. What a knock from Pandya! Remains unbeaten on 29 off just 11 balls. First win for MI in 2017 IPL.
11:47 pm IST: DROPPED! Rishi Dhawan drops a skier at deep square leg. Hardik Pandya was the batsman. Has Rishi dropped the match for KKR?
11:46 pm IST: Dot ball. MI need 5 off 3. It's getting tight.
11:45 pm IST: Misfield by SK Yadav. Boundary at long-on. MI need 5 off 4.
11:43 pm IST: Single off the last ball for Pandya. MI need 11 off 6 balls.
11:40 pm IST: OUT! Rana c Narine b Rajpoot 50(29). Can Hardik Pandya finish it for MI?
11:38 pm IST: 11 runs off first two balls. Rana on fire. Brings up his fifty. What an innings from the southpaw!
11:35 pm IST: Rajpoot to bowl the penultimate over.
11:33 pm IST: MI have made their way back in the game. 19 runs off Boult's third. MI need 30 off 18 balls.
11:28 pm IST: FOUR! Back of length delivery from Woakes, Pandya steps out and hits it to point boundary. MI need 49 off 18 balls.
11:24 pm IST: OUT! Pollard c sub (Rishi Dhawan) b Woakes 17(17). Just the wicket KKR wanted!
11:20 pm IST: Three tidy overs in a row from KKR. Pressure mounting on Pollard and Rana. MI need 60 off 24 balls.
11:16 pm IST: Another good over for KKR. This time it's Boult. MI need 64 off 30 balls.
11:11 pm IST: Outstanding over from Kuldeep. Just three runs off it. He ends with figures of 1/35.
11:07 pm IST: MI need 74 off 42 balls.
11:05 pm IST: SIX! Shortish length from Rajpoot, Pollard gets into position and pulls it hard (and flat) over the mid-wicket boundary.
11:02 pm IST: WICKET! K Pandya c Uthappa b Rajpoot 11(6). Pollard the next man in.
10:59 pm IST: Costly over from Kuldeep. 14 runs off his third. MI need 82 off 48 balls.
10:56 pm IST: Consecutive boundaries for Krunal Pandya. Looks in good form. MI need 96 off 54 balls.
10:51 pm IST: OUT! Rohit LBW Narine 2(6). MI in all sorts of trouble now.
10:47 pm IST: Someone really needs to hang in for MI. The target is very much achievable.
10:42 pm IST: OUT! Big one for KKR. Buttler departs for 28. MI are 71/2 after 8.3 overs.
10:38 pm IST: WICKET! Parthiv LBW Kuldeep 30(27).
10:36 pm IST: SIX! Flighted delivery from Kuldeep, Parthiv gets down on one knee and smashes it into mid-wicket stands.
10:33 pm IST: SIX! Buttler looks in superb form. Dispatches one over wide long-on region.
10:27 pm IST: MI are 44/0 after 5 overs.
10:22 pm IST: Bad news for KKR fans - Chris Lynn has injured his left shoulder. While attempting a catch, he made a full-length dive but landed badly on his shoulder. The extent of the injury is yet to be known.
10:19 pm IST: SIX! Length delivery from Woakes, Buttler shuffles and scoops it over fine-leg boundary.
10:15 pm IST: MI are 25/0 after 3 overs.
10:14 pm IST: FOUR! Fuller delivery from Boult and Parthiv times it well in the gap between cover and mid-off.
10:10 pm IST: Six runs from Woakes' first. MI are 15/0 after 2 overs.
10:05 pm IST: Woakes now.
10:04 pm IST: FOUR! This time it's Buttler. MI are 9/0 after first over.
10:02 pm IST: FOUR! Short and wide from Boult and Parthiv cuts it well towards backward point region for his first boundary of the night.
10:01 pm IST: Parthiv Patel to take strike. Boult to bowl the first over for KKR.
10:00 pm IST: Welcome back!
9:45 pm IST: And that's the end. KKR finish on 178/7. What a knock from Pandey! Remains unbeaten on 81. We'll be back in a few minutes time.
9:41 pm IST: SIX! Fullish delivery and Pandey hits it over long-on boundary. Moves to 76 now.
9:39 pm IST: SIX! Pandey on fire. Short of a length ball, Pandey shuffles and smacks it over mid-wicket.
9:37 pm IST: McClenaghan to bowl the final over.
9:36 pm IST: SIX! Overpitched delivery from Malinga and Pandey hammers over deep mid-wicket for a maximum. KKR are 155/6 after 19 overs.
9:34 pm IST: Sunil Narine is the next man in. For those of whom missed this year's BBL action, Narine opened for Melbourne Renegades in some matches.
9:32 pm IST: OUT! Second wicket for Malinga. Length ball, Woakes looks to go big but instead finds Pollard, who completes a neat catch at long-on. KKR are 144/8 after 18.1 overs.
9:30 pm IST: Single and that's fifty for Pandey. His 8th in IPL. A well-compiled innings from the Karnataka lad.
9:28 pm IST: Bumrah to bowl his last over. He has been very expensive tonight.
9:26 pm IST: KKR are 136/5 after 17 overs.
9:22 pm IST: WICKET! SK Yadav c Pollard b Malinga 17(15). Woakes is the next batsman in.
9:18 pm IST: Six and a four from Pandey to finish off Bumrah's over. Moves to 46. KKR are 131/4 after 16 overs.
9:13 pm IST: Pandey holds the key here for KKR. He needs to stay till the end.
9:09 pm IST: SIX! Short and wide from McClenaghan, Pandey doesn't try to hit it too hard. Instead, he uses the pace of the ball and places it well over third-man. KKR are 107/4 after 14 overs.
9:07 pm IST: McClenaghan into the attack. He has two overs left.
9:06 pm IST: Nine runs off Harbhajan's third. KKR are 98/4 after 13 overs.
9:02 pm IST: OUT! Pathan gone. Dances down the track and tries to hit it over long-off but miscues. Third of the night for Krunal. He finishes with figures of 3/24. KKR are 89/4 after 12 overs.
8:58 pm IST: Tidy over from Harbhajan. Just three runs off it. KKR are 82/3 after 11 overs.
8:55 pm IST: KKR in desperate need of a partnership. Another below 180 would be an easy ride for MI.
STAT ATTACK - Harbhajan Singh is currently the most capped player for Mumbai Indians (148).
8:49 pm IST: Steady start from Harbhajan. Five runs off the over. KKR are 72/3 after 9 overs.
8:46 pm IST: Yusuf Pathan is the next man in. Harbhajan to bowl his first over.
8:44 pm IST: OUT! Bumrah gets the big fish, Lynn. KKR in all sorts of trouble now. Pandey needs to get a big one here.
8:39 pm IST: Decent over from Krunal. Six runs off it. KKR are 65/2 after 7 overs.
8:35 pm IST: Another costly over from McClenaghan. 11 runs off it. KKR are 59/2 after 6 overs. Lynn 28*, Pandey 1*
8:30 pm IST: Dot ball to finish off from Krunal. Excellent over from him. Two wickets for just four runs. KKR are 48/2 after 5 overs.
8:29 pm IST: OUT! Another blow for KKR. Just what's the need of the hour for MI. Uthappa departs for 4(3). Second scalp for Krunal.
8:25 pm IST: WICKET! Gambhir c McClenaghan b Krunal 19(13).
8:23 pm IST: Single for Gambhir. KKR are 44/0 after 4 overs.
8:21 pm IS: SIX! Short ball from Malinga and Lynn dispatches it into the deep mid-wicket stands. Moves to 20
8:18 pm IST: Expensive over from Bumrah. 15 runs off it. KKR are 34/0 after 3 overs. Just the kind of start the visiting team would've wanted.
8:14 pm IST: Bumrah comes in as the first change.
8:12 pm IST: FOUR! Good length delivery from McClenaghan, Gambhir clears the front leg and times it well through cover. KKR are 19/0 after 2 overs.
8:09 pm IST: FOUR! Straying down leg, Lynn gets into position and times it past the fielder at short fine-leg.
8:08 pm IST: McClenaghan to share the new ball with Malinga.
8:06 pm IST: Single off the last ball for Lynn. KKR are 10/0 after first over.
8:05 pm IST: FOUR! First boundary for Lynn. Length delivery, Lynn makes room and powers it past mid-on.
8:04 pm IST: Shaky start from Malinga. Two wides (with Lynn on strike).
8:01 pm IST: First delivery from Malinga, attempted yorker, Gambhir gets off the mark with a single.
7:58 pm IST: Time for live action. KKR openers Gambhir and Lynn make their way out in the middle. Lasith Malinga, who missed the first game because of national duty, will start the proceedings for MI.
7:46 pm IST: This legendary cricketer has something to say about Harbhajan Singh's omission from MI's playing XI in the first game vs RPS.
7:37 pm IST: For KKR, Ankit Rajpoot replaces Piyush Chawla, while Harbhajan Singh comes in place of Ambati Rayudu - who will miss some matches due to a groin injury.
7:35 pm IST: Here are the playing XI of both teams:
KKR: Gautam Gambhir(c), Chris Lynn, Robin Uthappa(wk), Manish Pandey, Yusuf Pathan, Suryakumar Yadav, Ankit Rajpoot, Chris Woakes, Kuldeep Yadav, Sunil Narine,Trent Boult
MI: Parthiv Patel(wk), Jos Buttler, Rohit Sharma(c), Nitish Rana, Saurabh Tiwary, Krunal Pandya, Kieron Pollard, Hardik Pandya, Harbhajan Singh, Lasith Malinga, Mitchell McClenaghan
7:30 pm IST: Mumbai Indians win the toss and opt to bowl vs Kolkata Knight Riders
7:26 pm IST: In the first game of the day, David Warner, Moises Henriques and Rashid Khan's brilliance helped Sunrisers Hyderabad thrash Gujarat Lions by nine wickets to register their second successive win in this year's tournament. Warner, who remained unbeaten on 76, became the fourth batsman to cross the 7000-run mark in T20s. The first three are Chris Gayle, Brendon McCullum and Brad Hodge.
7:25 pm IST: Toss in five minutes.
7:20 pm IST: Hello and welcome to our live coverage of the 2017 IPL match between Mumbai Indians and Kolkata Knight Riders.
Mumbai Indians will be looking to bounce back in their fortress of Wankhede stadium after suffering a loss in their opening game of the Indian Premier League. The team will welcome the return of Lasith Malinga, who missed the first game due to international commitments (SRH vs GL Updates)
However, their task will not be easy against a Kolkata Knight Riders side that made a big statement in their opening game against Gujarat Lions. Chris Lynn's brilliant 93 and Gautam Gambhir's aggressive 76 helped KKR secure a record 10-wicket win.
Heading into the encounter, Mumbai Indians enjoy a superb head-to-head record against Kolkata Knight Riders. In 18 matches, Mumbai Indians have won 13 encounters while KKR have won just five times.
Personalise your news feed. Follow trending topics