Ajmer hospital gets sanitary napkin vending machine
The district administration has also identified 69 more spots across the districts – schools, colleges, jails, bus stands and railway station – to install such vending machines. With this Ajmer will become the country's first to have as many sanitary napkin vending machines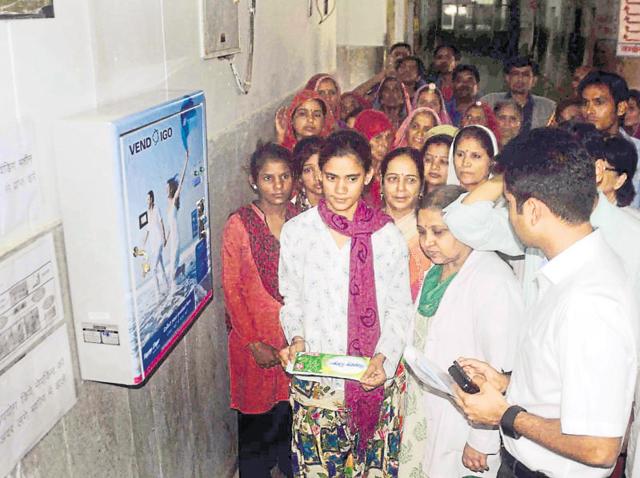 Published on Jun 09, 2016 08:13 PM IST
To promote healthy menstrual practices among women, especially adolescents, a sanitary napkin vending machine was installed at Ajmer's Zanana (women's) Hospital on Wednesday. The district administration has also identified 69 more spots across the districts – schools, colleges, jails, bus stands and railway station – to install such vending machines. With this Ajmer will become the country's first to have as many sanitary napkin vending machines.
According to a survey by AC Nielsen in 2012-13, only 12% women in India use sanitary pads. Most women feel embarrassed to buy them from medical outlets, almost always staffed by men, which leads to the use of unhygienic materials during menstruation.
The situation becomes grim in view of the stigma and social taboo associated with menstruation.
Ajmer collector Gaurav Goyal told HT on Thursday that the administration had begun work on the issue two months ago. "We researched and found out that HLL Lifecare Limited has developed a vending machine for sanitary pads. It also has an incinerator for safe disposal of used pads. We looked for donors for the machines (which costs Rs 48,000 per unit) and identified 70 locations in the district to install them," said Goyal, who was recently posted in the district.
The spots identified to set up the vending machines include government senior secondary schools, girls' colleges, girls' common rooms of medical and engineering colleges, women polytechnic colleges and ITIs, women jail, nursing colleges, shelter homes for women, bus stand and railway station.
The machine dispenses three pads after `10 is inserted into it. An incinerator with the vending machine reduces 15 used pads to one gram of ash, which can be used in plantation.
"It ensures sanitary pads are available 24X7 and eliminates human interaction during purchase. It also ensures hygiene and allows easy and environment-friendly disposal of used pads," Goyal said.
The initiative is a part of Rajasthan government's focus on the health of young people, especially adolescent girls, because data suggests that more than 33% of disease burden and about 60% premature deaths among adults are associated with adolescence behaviour.
NGOs and mine owners have sponsored all 70 machines.
Close Story
Personalise your news feed. Follow trending topics