Cracks appear in wall of Jhalawar's Gagron Fort
Updated on Aug 12, 2018 10:33 PM IST
A part of the wall of Gagron Fort, one of the six hill forts of Rajasthan that find place in the UNESCO World Heritage site list, has developed cracks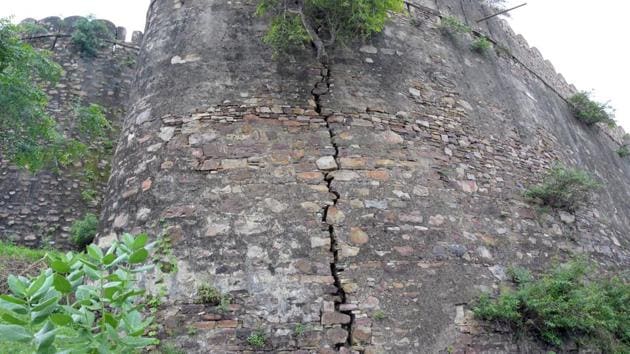 Hindustan Times, Kota |
Aabshar H Quazi
A part of the wall of Gagron Fort, one of the six hill forts of Rajasthan that find place in the UNESCO World Heritage site list, has developed cracks.
The fort, constructed by the Parmar rulers in Jhalarapatan region of Jhalawar district in the 12 century, is surrounded by Kali Sindh and Aahu rivers. It is also known as the only 'water fort' for Rajasthan. The fort was declared as the UNESCO World Heritage site in 2013.
This beautiful monument of architecture is now facing onslaught of time. A big crack has appeared on the outer boundary wall of the fort, which runs down to the ground from a height of over 30 feet.
"Plants have grown on the walls of Gagron fort, due to which the fort wall has become fragile," said Lalit Sharma, a historian of Jhalarapatan. "If the fort wall carrying cracks is not repaired soon, serious damage can occur to the fort wall ," he said. The fort wall has developed cracks due to the apathy of the authorities, he alleged.
When his attention was drawn towards the cracks in the Gagron Fort wall, Umrao Singh, the superintendent of Department of Archaeology and Museum for Kota Division, said that restoration work worth ₹3 crore was going on inside the fort, but the outer fort wall was not included in the plan. "But now the fort wall will also be taken up for the repair and restoration work," Singh said.
"The contractor involved in the restoration of Gagron Fort has been asked to repair the cracks and soon the fort wall will be repaired," he added.
Around ₹7 crore were spent on the fort restoration during the first tenure of chief minister Vasundhara Raje (2003-2008).
The Gagron fort exists at the confluence of Aahu and Kali Sindh rivers on two sides, while the stream of these two rivers flows on the third side of the fort. There is a passage on fourth side, which leads to the Gagron fort.