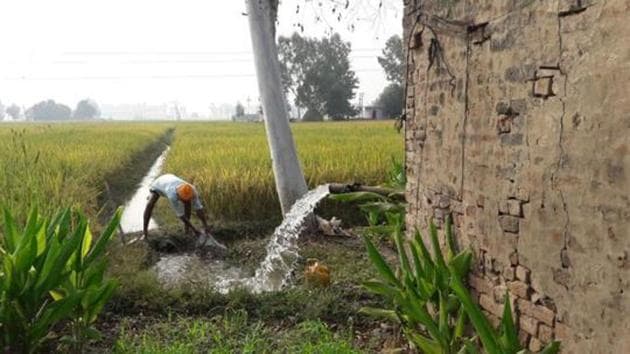 Farmers get 5-7 hours power daily, second lowest in India
55% of cultivable land in state is dependant on rainfall.
UPDATED ON MAY 09, 2018 09:57 PM IST
For a state that has announced free domestic power connections to 7.60 lakh families, including 2.25 lakh BPL families, here's a reality check.
In 2017-18, the agriculture sector in Rajasthan received on an average five to seven hours of electricity per day — the second lowest among the states, according to the latest data released by the Central Electricity Authority (CEA). Poll-bound Karnataka performed worst with average of six hours of power supplied to agriculture sector.
As per the state government records, 70 per cent of the Rajasthan population is dependent on agriculture. More than half or nearly 55% of the cultivable land in state is dependent on rainfall. As Rajasthan heads to polls later this year, power supply for irrigation is likely to be major issue. Rural distress, fuelled by erratic rainfall and low remuneration for crops, was one of the major factors responsible for BJP suffering a rout in the byelections to two parliamentary and one assembly seats held in January.
Kher Singh, a farmer who cultivates nearly 50 bigha land in Karauli, is a dejected man. "We don't get electricity for more than four to five hours a day. My wheat crop suffered in last season (December-March) due to lack of irrigation," said Singh.
A large section of farmers are dependent on pumping sets to draw water for irrigation. Running the pumping sets on diesel is a costly affair and so most farmers have got electric pumping sets installed.
The problem, however, Singh said, was that the power is supplied mostly during night. "After a hard day's work, we rush to the fields at night to get them irrigated. Area that could be irrigated in say 24 hours, if we get round the clock power, takes four to five nights thereby affecting the crop," he added.
As per the CEA's March 2018 report, the two new states — Uttarakhand and Telangana — and Odisha saw nearly 24-hour power supply to farm sector. Among other states, Chhattisgarh and Bihar supplied upto 18 hours of power to farms while in Maharasthra and Haryana, it was for nearly 9 hours per day.
Rajasthan power minister Pushpendra Singh claimed that power was supplied to the farm sector based on its need. "The supply to the agriculture sector is as per the requirement (for sowing or harvesting)," he said.
The minister, however, said, that the government was sensitive to the needs of the farmers. "We have not increased the power tariff for the agriculture sector and it remains at 90 paise per unit despite an increase in tariff by the regulator. The government gave a cross subsidy of Rs 26,125 crore in past four years to keep the power tariff low," he added.
The Opposition Congress has often accused the ruling dispensation of being insensitive to the plight of the farmers. Congress claims that 92 farmers committed suicide in Rajasthan in the past four years, mainly due to debt burden, a charge denied by the ruling party that has acknowledged only three farmer suicides in 2015.
In the past four years, the Rajasthan government issued 1.93 lakh new power connections for agriculture sector. In 2017, the government had recommended proposals of Agriculture Connection Policy 2017 to give power on a priority basis to farmers. Under the policy, agriculture connections up to 5 HP power were given on priority. The interest rates were also reduced from 16 to 12 per cent for reconnection of the disconnected power supply.
However, the power supply remains erratic in the rural areas and during the last rabi season, farmers in some districts had also staged protests at sub stations to highlight the problem.
"The main reason for reduced power supply for agriculture sector is the low power tariff. With the fiscal deficit on the rise, the government cannot afford doling out power on highly subsidised rates for longer duration. It supplies power that is just about sufficient," said a discom official requesting anonymity.
As per the latest data, Rajasthan's power availability in 2016-17 was 67,417 net million units while the power requirement was 67,838 million units.
Close