Temple visits mark Raje's public events in Rajasthan
She makes it a point to visit at least one temple during Jan Samwad events in districts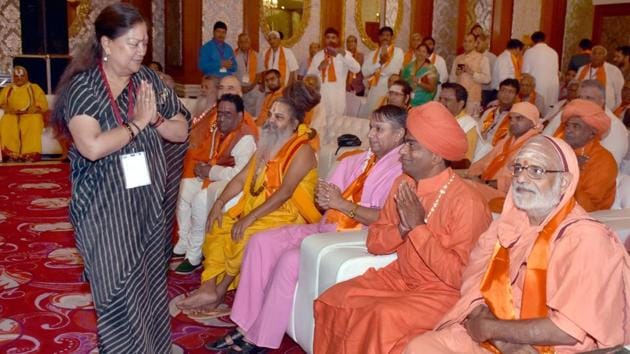 Updated on Jul 28, 2018 09:59 PM IST
On July 16, chief minister Vasundhara Raje started her 'Jan Samvad' (public dialogue) in Dungarpur with a visit to the famous Srinath temple where she felicitated nearly 50 saints and sought their blessings.
"Mare upar puro ashirwad rakju (give me your full blessings)," said the chief minister while presenting shawls and shreefal to saints, who replied in one voice, "Vijai bhavo (may you be victorious)."
Raje makes it a point to visit at least one temple during her Jan Samwad events in districts. The CM has held such meetings in more than 50 assembly constituencies across 16 districts in the state.
During BJP president Amit Shah's visit to Jaipur in July last year, the BJP had organised an event where he met nearly 100 saints to take their feedback and seek their blessings. Raje had also accompanied Shah at the event.
"It's about personal faith and has nothing to do with the party. The BJP is open about it, but Congress leaders also visit us to seek our blessings," said Swami Avadheshacharya of Shri Galta Peetham. Swami Avadheshacharya was one of the seers invited for the event that Shah attended last year.
"It's wrong to say that the chief minister is visiting temples because of elections. She not only regularly visits temples and other religious places, but has also done a lot for the promotion of religious tourism in Rajasthan," said a BJP leader. "The state government is spending more than ₹550 crore on the development of 125 temples and 30 monuments in Rajasthan," he said.
Raje has also directed Rajasthan Heritage Protection and Promotion Authority to speed up the work to install panoramas of great saints of various communities and sects across the state. With the installation of panoramas, the government is eyeing to woo masses ahead of assembly elections. The authority, since its formation four years ago, has been engaged in installing panoramas in the state.
Hoping to repeat the success of last assembly elections, Raje will begin her Suraj Gaurav Yatra from Charbhuja temple in Rajsamand district on August 4.
In 2003 and 2013, Raje had launched her statewide yatras from Charbhuja, which is dedicated to Lord Vishnu, and both times the BJP won with an overwhelming majority.
Not all her temple visits are always fruitful. In January this year, she had launched her campaign for the by-elections in Ajmer with a visit to Masaniya Bhairav Dham temple in Rajgarh and also took blessings of saints. The BJP lost in Ajmer and Alwar Lok Sabha seats and Mandalgarh assembly seat.
Congress president Rahul Gandhi, who had visited temples in Gujarat in the run-up to the assembly elections, is also planning to visit famous temples in Rajasthan during his visit next month.
Topics
Close Story