Bengal: Agitators block rail tracks, NH-6 to protest Kathua-Unnao cases
Lakhs of commuters were inconvenienced as the agitation paralysed rail and road movement for over four hours.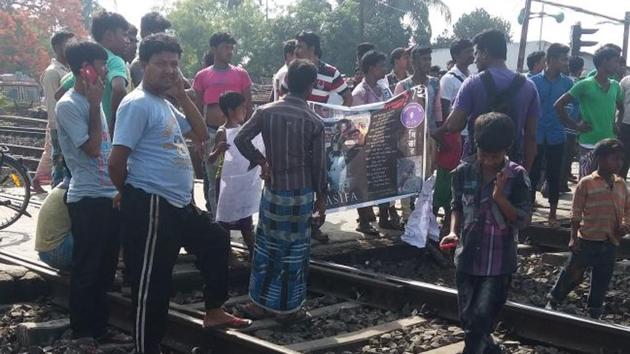 Updated on Apr 20, 2018 03:35 PM IST
Hindustan Times, Kolkata |
HT Correspondent
People protesting against the Kathua and Unnao sexual assault cases blocked railway tracks as well as the National Highway-6 for over four hours in West Bengal on Friday, delaying trains and inconveniencing lakhs of commuters.
The blockades along the South Eastern Railway section held up several local trains, besides long-distance ones such as the Purulia-Howrah Express, Howrah-Mumbai (Duranta) Express, Mumbai-Howrah Mail and Falaknuma Express, at various stations between Howrah and Kharagpur.
"The agitation went on from 7.30 am to 11.48 hours. Two pairs of local trains were initially cancelled, and two others were rescheduled. More trains could be cancelled or rescheduled," a spokesperson of the South Eastern Railway said.
The protesters, however, were not done. They again blocked the national highway at Uluberia, located 43 km from Kolkata, around 2 pm. The second phase of the agitation lasted for about 45 minutes before police persuaded them to disperse.
The Howrah police superintendent was unavailable for comment.
The National Highway-6 – which connects Kolkata and Mumbai – handles a bulk of the road traffic from West Bengal to the states of Odisha, Andhra Pradesh, Tamil Nadu and Maharashtra.
The agitation was reportedly held by a few minority groups, although no banners attributing it to specific organisations were seen at the protest sites. An official said on the condition of anonymity that representatives of the South Eastern Railway tried placating the agitators, but refrained from using force in view of the sensitive issue.
Many places across the country witnessed widespread protests against the rape-cum-murder of an eight-year-old girl allegedly by right-wing activists in Jammu's Kathua, and the alleged sexual assault of a teenager by a BJP legislator in Uttar Pradesh's Unnao, over the last few days. Although protests were taken out in Bengal too – with sympathisers wearing black armbands and holding candlelight vigils – no disruptive activity was reported until now.
Close Story