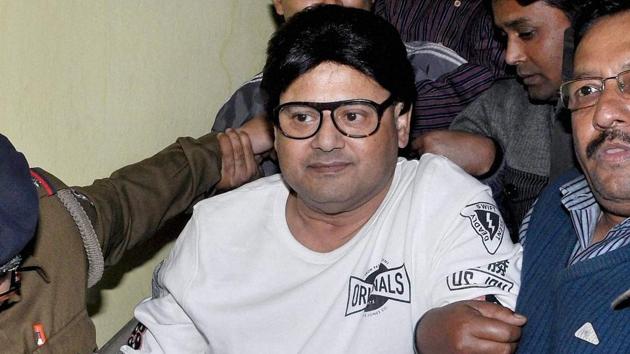 Tapas Paul: Bengali movie star to hardened politico arrested in Rose Valley scam
Dadar Kirti, the 1980 movie, marked the entry of a 22-year-old Tapas Paul into the Bengali film industry. More than decades later, Paul's notoriety now comes from his political career and offences.
PUBLISHED ON DEC 31, 2016 12:44 AM IST
Simpleton Kedar failed to finish his graduation after three attempts. Gullible Kedar fell in love with the stern Saraswati.
Dadar Kirti, the 1980 movie, marked the entry of a 22-year-old Tapas Paul into the Bengali film industry. Many still remember his role as protagonist Kedar.
He had no godfather in the industry, yet he became one of the most popular Bengali actors through the 1980s and 1990s. His boyish charm helped churn out Bengali blockbusters such as Guru Dakshina, Saheb, Anurager Chowa and Bhalobasha Bhalobasha.
Now, at 58, he rarely acts in films. He has a dedicated political career to pursue.
Read | Trinamool MP Tapas Paul arrested in connection with Rose Valley chit fund scam
He was a state legislator from Alipore for two terms from 2001 and got elected to Parliament in 2009 on a Trinamool Congress ticket from Krishnanagar.
He retained the Lok Sabha seat in 2014, but hit the headlines for the wrong reasons. He was caught on camera provoking supporters to kill rival CPI(M) functionaries and rape their women.
"I am also a goonda (ruffian). I will shoot you guys if a Trinamool Congress worker is ever attacked … If you insult mothers and daughters of Trinamool workers, I won't spare you. I will let loose my boys in your homes and they will rape," Paul said.
Read | Tapas Pal issues apology for his rape remark, Mamata attacks media
The harsh rhetoric of a politician was at odds with the dialogues, songs and roles he played in movies for which he is remembered in most Bengali households.
Veteran director Tarun Majumder, who introduced Paul to Bengali cinegoers as Kedar, refused comments on his arrest over the Rose Valley chit fund scam on Friday.
He simply remembered him as a fine actor. "He came prepared to the sets. He not only impressed me with his acting but also the people of Bengal."
Paul's onscreen chemistry with Debasree Roy and Satabdi Roy — both Trinamool politicians now — won the hearts of the audience.
Close