Eating nothing but pineapple for weight loss? Know side effects from dietician
Aug 09, 2022 01:25 PM IST
Pineapple diet for weight loss is all the rage these days, but experts say eating just pineapples for several days can have several side effects.
Sweet, crunchy and slightly tart pineapple is considered an excellent food for weight loss. The flavoursome fruit is a popular ingredient in desserts, drinks and salads and provides a distinct taste to food. The fruit has been gaining popularity as a weight loss food because it has bromelain, an enzyme that aids in burning body fat. While a cup of pineapple a day may help you achieve your weight loss goals, surviving on a pineapple-only diet for days together can lead to several side effects. (Also read: Kiwi fruit: 4 reasons to add this wonderful fruit to your diet)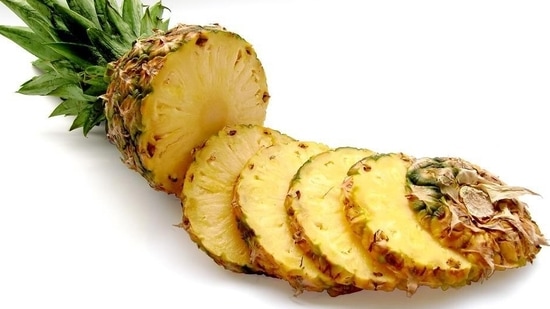 One cup of fresh pineapple chunks has 82 grams calories, 0.89 grams proteins, 0.20 grams fat according to WebMD.
WHAT IS PINEAPPLE DIET
There is no dearth of fad diets and one of them which has become quite a rage these days in pineapple diet. As the name suggests, people follow this diet for quick weight loss and have nothing but pineapple for two days in a week, while eating normally on remaining days. The diet was created by a Danish psychologist called Sten Hegeler who wrote this book along with his wife called Sexy Pineapple Diet that promised quick weight loss and overall well-being. However, over the time many people are following the modified version of this diet and eating pineapples for several days or weeks together instead of two days in a week which could be quite risky for health.
SIDE EFFECTS: WHAT HAPPENS WHEN YOU EAT TOO MUCH PINEAPPLE
Nutritionist Lovneet Batra on her recent Instagram post talks about side effects of eating just pineapples for several days.
- You'll be extremely hungry, irritable, and tired because pineapple is so acidic, it might bother your stomach, especially if that's all you're eating for an entire day. You may also feel nauseated or experience diarrhoea.
- Side effects like dizziness, passing out, headaches, hunger pains, insomnia, weakness, and extreme hunger may affect you because pineapple contains less than one gram of protein and fat per cup and lacks many vitamins and minerals which can further put you to nutrient deficiencies.
- Additionally, extremely high amounts of bromelain (an enzyme found in pineapple) can cause skin rashes, vomiting, diarrhoea, and excessive menstrual bleeding.
"Well, you do not need to follow any restrictive diet to lose weight, but if you want to lose weight, it's best to create a small calorie deficit by cutting out or reducing your intake of sugary beverages, ultra-processed foods or consider working with," says Batra.
Follow more stories on Facebook & Twitter
"Exciting news! Hindustan Times is now on WhatsApp Channels
Subscribe today by clicking the link and stay updated with the latest news!"
Click here!