5 levels of conversation in a relationship: Therapist explains
Jan 24, 2023 12:53 PM IST
From starting a conversation with the clichés to moving on and sharing opinions about the relationship, here are five levels of having a proper conversation in a relationship.
A relationship is based on a lot of healthy communication. In a relationship, people often feel the need of expressing their feelings, emotions, needs, wants and expectations, and that is the correct way of addressing things. Relationships that are based on expecting the other person to read the mind of and know what we are thinking, often turn toxic with time, and can lead to separation. A relationship requires conversations, and healthy communications, and two people who are willing to go through it, no matter what. It also takes two people to have the comfort of having uncomfortable conversations and find a fix to problems, instead of letting go.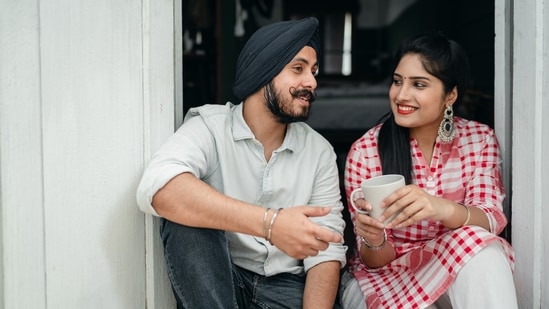 ALSO READ: Find your perfect match: 6 ways to date more intentionally in 2023
Marriage and family therapist Elizabeth Earnshaw is known for sharing insights on relationships on her Instagram profile on a regular basis. The therapist, a day back, addressed the need of having proper conversations in a relationship. "Each level of conversation can be fulfilling and helpful to a relationship - none are better or worse - and it's important to think about whether you're having the type of conversations you want to have within your relationships. By knowing about the levels of convo, you can assess where you are with the people you love and work towards getting to the conversations you want to have," read an excerpt of her post. Elizabeth further listed the five levels of a conversation:
Sharing cliches: Starting the conversation is one of the most challenging parts. It is easier to start the conversation by sharing cliches or a small talk about the wellbeing of the person, or something very general, like commenting about the weather.
Sharing information: Sharing a particular information can interest the other person to stay and contribute to the conversation more.
Ideas and opinions: Sharing more intimate knowledge such as opinions and perspectives can be reserved for the third level of conversation, when the people start to get interested in the conversation more.
Values and feelings: Exchanging values, and emotions is a very intimate process in a conversation, and are done with people who we feel close to.
Truths: In the ultimate level of a conversation, we can share truths and our opinions about the relationship, and seek their opinions as well.