Parenting tips: Here's how to use craft clay to target early language skills in children
Updated on Jul 26, 2022 09:39 AM IST
Here are a few ways that parents can use crafting clay or play doh to facilitate a child's early language development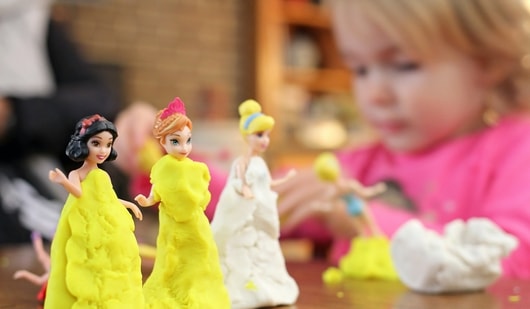 Early years of life (0 to 5 years) are the most essential years of development in a child's life since maximum development of brain takes place during these early years hence, child experts insist that it is important to give them a stimulatory environment so they can reach their maximum genetic potential and also influences their physical and emotional growth. A child needs motor skills to move and do his/her tasks independently, to develop cognitive, speech and sensory development, to enhance confidence and independence, achieve developmental milestones and even prevent early motor delays and conditions that can hamper one's development hence, parents will have to work on the motor skills on a daily basis.
According to experts, craft clay or play-doh is the most popular, creative, safe and enjoyable play that provides multiple developmental and sensory benefits to children. While the messy process of kneading, squishing, and cutting craft clay is associated with the development of fine motor skills, cognitive skills and socio-emotional skills (in a group play), the direct benefits of craft clay contributing to language skills are not much spoken about.
In an interview with HT Lifestyle, Dr Wilona, MD Consultant Psychiatrist and Founder of Catalysts, shared, "Play-Doh encourages communication through play. When you play with Play-Doh compounds you help your child express their ideas through their creations. This gives kids a way to share their own stories with others. Playing together with Play-Doh and talking about what they create helps kids practice communication skills and pick up new words to build their vocabulary. I urge parents to take the time and plan Play-Doh activities with their children for the development of motor, social and communication skills that prepares a child for school. Teachers are also using Play-Doh in classroom sessions to help kids explore colours, shapes and alphabets and make learning fun."
Arshleen Kalra, Head of Curriculum and Service Delivery at KLAY Preschools and Daycare, revealed a few ways that crafting clay can facilitate a child's early language development and how parents or teachers can use craft clay to target early language skills:
1. Learning to Listen – While the child is busy creating shapes or their favourite fruit, ask 'What' questions and encourage them to respond. Expand on their responses and correct the sounds. In this process, when you are speaking, they are learning to listen, and comprehend the sound blending and manipulations needed to form words.
2. Learning to speak – Social pretend plays with craft clay are a great way to immerse children in creative and sensory experiences. Playing different roles like a chef or doctor helps them communicate with each other. Such activities develop a child's conversational skills but also instill confidence and comfort to express themselves in front of others.
3. Learning to read – Craft clay is a fun way to support letter recognition and associations. It can be stimulating for a child to go to the zoo with Mr. Z made with craft clay or make some colourful craft clay ice cream pops in the form of letters!
4. Learning to write – Fine motor skills developed through processing a craft clay promote tripod grip (needed to hold a pencil) and lay a foundation for developing pre-writing skills. Mark-making activities with craft clay are a wonderful way to induct your little one into writing.
Personalise your news feed. Follow trending topics