5 most popular places for fairytale destination wedding in India in 2023
Jan 04, 2023 04:04 PM IST
From Ahmedabad to Udaipur, check out the hottest places in India for your dream destination wedding.
There is no shortage of lovely locations in India for a fairytale wedding. However, Indian weddings that earn the moniker "Great Indian Wedding" are a collection of grand festivities held days before the wedding. Therefore, choosing a beautiful location with proper accommodations for your guests is essential. With its stunning natural beauty and array of cultural attractions, Udaipur is often the first place that comes to mind when people think about destination weddings. But it's not the only city in India with something special to offer brides and grooms celebrating their nuptials away from home. There are many breathtaking locations in India that are perfect for your dream wedding. (Also read: Wedding Tourism: Top 5 south Indian destination for an ideal fairytale wedding )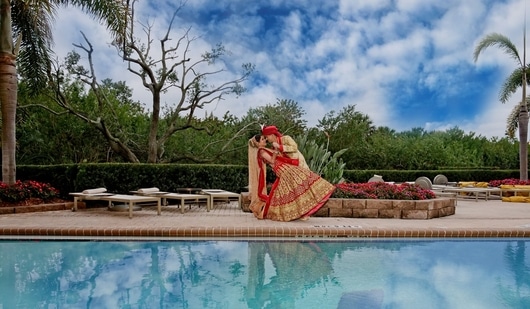 Talking to HT Lifestyle, Nikhil Sharma, Regional Director for Eurasia, Wyndham Hotels and Resorts, shared top Indian places worth considering for a destination wedding.
1. Mohali- The perfect blend of romance and beauty
Mohali, home to Asia's most extensive rose garden, is the ideal location for couples wanting a blissful romantic wedding that emanates splendour and compassion. This city is brimming with hotels that provide wedding packages to fit any budget, providing the most exquisite convenience for guests while also minimising accommodation constraints. The city is conveniently accessible from all across the province and has a lively and dynamic atmosphere that will keep you and your loved ones captivated.
2. Ahmedabad- The land of famous Gujarati thali and rich history
Nestled along the Sabarmati River, Ahmedabad is home to numerous hotels and luxury properties. Since there are countless hotels within a 50-minute drive from the Sardar Vallabhbhai Patel International Airport, finding a location and lodging for your guests will be a breeze. Most hotels here offer gorgeous indoor and outdoor venue options with spectacular views and delectable cuisines. Furthermore, the city's countless historical sites, restaurants, shopping malls and heritage sites will keep your guests entertained.
3. Chandigarh- The city of gardens
Chandigarh, also known as "The City Beautiful" is home to architectural marvels and enthralling gardens, making it one of the favourite destinations for destination weddings. Out of the many beautiful cities of Chandigarh, Zirakpur wins the heart of any bride thanks to its calm and serene weather, which creates a pleasant backdrop ideal for a romantic wedding. In the heart of this tranquil city are excellent hotels featuring rich architecture, vast space and leisure amenities ideal for hosting large-scale weddings.
4. Kochi- A city where you can buy any wonder
Hailed as the "Queen of Arabian Sea" Kochi is renowned for its out-of-this-world venues for breathtaking destination weddings. From the transcendental coastline to the mesmerising lakes of Kumbalam, the city has many hotels offering sophisticated and world-class banquet services in a nostalgic setting. Aside from gorgeous vistas, the city is near otherworldly wonders such as the Athirapally Waterfalls, Dutch Palace, and many more, making it the ideal wedding location and a wonderful honeymoon getaway.
5. Udaipur- An abode of palaces, lakes, and temples
Traditional culture blends with a contemporary, vibrant metropolis and ancient landmarks in the 'Venice of the East', offering a phenomenal experience. The city's vivid architecture, vibrant culture, and photogenic landscape illuminate the overall ambience, making it ideal for beautiful wedding photography. With countless five-star hotels and palaces surrounded by breathtaking views of the hills of the Aravalli Range, Udaipur is ideal for couples yearning for an enchanting royal wedding.