Tips to enjoy this winter season and holiday festivities with your pets
Jan 01, 2023 01:53 PM IST
Our small gestures of love towards our pets can make their winter season full of joy. Check out some tips to welcome this winter festival season with your pets.
This time of the year is special as it heralds the onset of the festive season and symbolises new beginnings. Winter in India is typically a favourite season since it offers relief from the heat and humidity. Even while people like curling up in a blanket with a cup of hot cocoa during the winter, pets may find the cold months, especially December and January, to be monotonous since they could miss their regular morning and evening walks due to the exceptionally low temperatures during these two months. Our extended families and our pets too need to be taken care of in this harsh winter season as our small gestures of love towards our pets can make their winter season full of joy. (Also read: Tips to take care of our pet's skin this winter )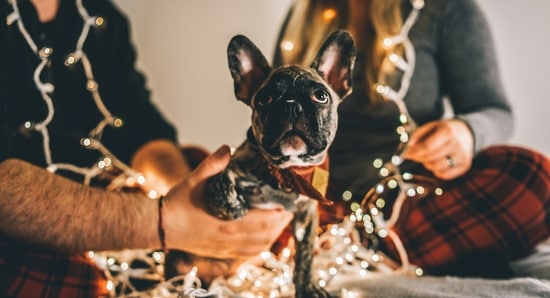 In an interview with HT Lifetsyle, Ambarish Sikarwar, Business Head, Zigly shares a few tips to keep your pet happy and healthy during winter.
1. Keep your pet warm: Make sure your pet has a warm, cozy place to sleep, and a waterproof coat or sweater to wear, especially if they'll be spending a lot of time outside. Consider getting a pet-safe heating pad or bed warmer to help keep them comfortable.
2. Keep an eye on your pet's diet: During the winter, your pet may need to eat a little more to maintain its body weight and warmth. It is recommended to talk to your veterinarian about your pet's specific nutritional needs during the winter months.
3. Keep your pet active: Just because it's cold outside doesn't mean your pet has to be inactive. Make sure they get plenty of exercise and mental stimulation to keep them happy and healthy.
4. Keep holiday decorations out of reach: If you have holiday decorations or plants around your home, make sure they are kept out of your pet's reach. Many holiday plants, such as poinsettias and mistletoe, can be toxic to pets.
5. Keep your pet safe during fireworks and loud celebrations: If your pet is afraid of loud noises, such as fireworks or loud parties, make sure they have a safe place to retreat to during these events. It's also a good idea to keep them indoors during these times to minimize their exposure to noise.
Ambarish further suggested a few activities to do with your pets during the winter holiday season.
1. Go for a walk or hike: As long as the weather is not too cold or slippery, going for a walk or hike with your pet can be a great way to enjoy the winter scenery and get some exercise.
2. Have indoor playtime: If it's too cold or icy to go outside, have some indoor playtime with your pet. You can play fetch with a toy or play hide and seek.
3. Make some homemade treats: Bake some homemade treats for your pet using ingredients that are safe for them to eat. You can find lots of recipes online or ask your veterinarian for suggestions.
4. Take a winter-themed photo shoot: Dress up your pet in a warm winter coat or sweater and take some cute winter-themed photos together. You can share the photos with your friends and family on social media or print them out to display in your home.
5. Go to a pet-friendly holiday event: Many communities have pet-friendly holiday events, such as a tree lighting ceremony or a parade. Check with your local parks and recreation department or search online to see if there are any events happening in your area.
6. Have a movie night: Snuggle up with your pet on the couch and watch a cozy winter movie together. You can even give your pet its own blanket or bed to make them feel extra comfortable.