International travel surged in 2022, UN says
Jan 18, 2023 05:07 PM IST
A UN World Tourism Organization report shows international tourism is again picking up, but has yet to reach pre-pandemic levels. China's reopening is expected to provide a boost toward recovery in 2023.
International travel doubled in 2022 compared to levels in 2021, with the Middle East and Europe making a strong comeback, according to a new report released Tuesday by the UN World Tourism Organization (UNWTO). The UN agency for tourism said more than 900 million tourists made foreign trips in 2022, as several countries with strict coronavirus restrictions eased rules.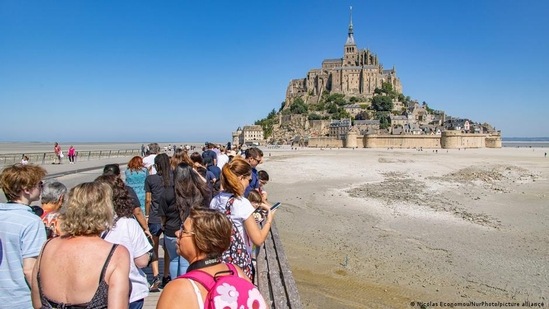 The figure represented 63% of pre-pandemic levels, according to the report. In 2019, nearly 1.5 billion people travelled internationally. In 2021, around 455 million people travelled internationally, according to the report. (Also Read | Turkey travel alert: Tips on taking a cruise along the Turquoise Coast)
Before the pandemic, travel and tourism accounted for nearly 10% of the global GDP .
The travel industry was valued around $3.5 trillion (Є3.2 trillion) in 2019, with the pandemic putting millions of jobs at risk.
Middle East and Europe make strong comeback
The Middle East enjoyed the strongest relative increase last year as international arrivals climbed to 83% of pre-pandemic levels.
Europe, where 31 countries had no coronavirus restrictions as of June 2 last year, also made a strong comeback, accounting for 80% recovery as compared to travel levels before the pandemic.
Africa and America saw international travel return to about 65% of pre-pandemic levels, while Asia and the Pacific recovered at a much slower pace.
With several countries in the Asia-Pacific region still under coronavirus restrictions, international arrivals reached only 23% of levels before the pandemic.
However, the return of Chinese travellers, who are among the world's top spenders on tourism, is likely to benefit Asian destinations in the short-term, researchers said.
Tourism industry bounces back
UNWTO Secretary-General Zurab Pololikashvili said in statement that the agency "anticipates a strong year for the sector even in the face of diverse challenges including the economic situation and continued geopolitical uncertainty."
The UN agency, based in Madrid, Spain, is optimistic about international travel making an almost full recovery this year, hoping for international travel to rise to between 80% to 95% of pre-pandemic levels, if conditions allow it.
They warn factors like inflation or economic slowdown or Russia's war on Ukraine could have an impact on people's decisions.