Queen Elizabeth's London home Buckingham Palace opens to public in a first
There have previously been guided tours of Buckingham Palace's 39-acre grounds, whose current landscape dates back to 1820, but now tourists can explore the palace grounds themselves.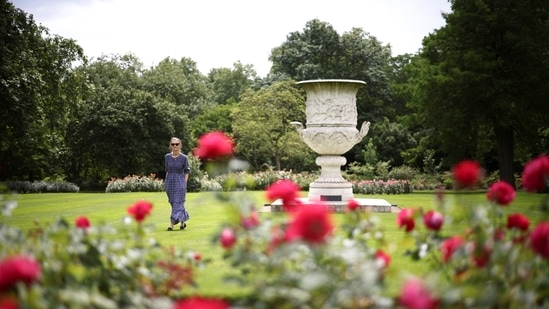 Updated on Jul 10, 2021 08:41 PM IST
Visitors will be able to meander unaccompanied through the gardens of Queen Elizabeth's London home for the first time from Friday - and enjoy a picnic while they're there. There have previously been guided tours of Buckingham Palace's 39-acre grounds, whose current landscape dates back to 1820.
But this year a 16.50 pound ($22.70) ticket, available until September, will allow tourists to explore the gardens by themselves. A visitor services warden for the Royal Collection said in a released statement, "It's an exciting prospect to allow people to come in and picnic in the gardens and explore to their own leisure. It's the largest private garden in London, so I feel like we've got lots of secrets to tell people."
"We sadly haven't been able to open the state rooms this year because of the current (coronavirus) situation as we might ordinarily have done and therefore it's wonderful to be able to open the garden instead ," Sally Goodsir, from the Royal Collection Trust which manages the royal palaces, told media.
Visitors will be able to see the gardens' 156-metre herbaceous border, its beehives, and plane trees planted by and named after Queen Victoria and Prince Albert, and picnic on its manicured lawns while treating themselves to some royal-themed picnic accessories such as a blanket and cotton napkins.
Traditionally, the queen hosts three annual garden parties at the palace but these have had to be cancelled for the last two years because of the pandemic. Likewise, the opening of the state rooms to the public during the summer months, which has taken place since 1993, has also not been able to go ahead.
ALSO SEE | Photos: London's Buckingham Palace opens to public amid coronavirus
Last month, officials said royal finances had taken a hit from the pandemic, losing out on the millions normally received from ticket sales. The palace is part way through a 10-year 369 million pound refit to replace electrical wiring, boilers, and refurbish other ageing infrastructure. Work has been accelerated during the pandemic while the queen has spent most of the her time at her Windsor Castle home outside London.
Sharing the news, the Royal Collection Trust's Instagram handle announced, "A limited number of tickets have just been released for our summer opening of Buckingham Palace Garden (9 July - 19 September 2021). Don't miss this unique chance to picnic in the Palace grounds. Be quick though, tickets have been very popular, so book now to avoid disappointment. "
Another post explained, "The Rose Garden at Buckingham Palace is made up of formal beds, in the Victorian style. This part of the garden however dates from the 1960s. 60 rose bushes grow in each of the 25 beds, and each bed contains a different variety of rose, chosen for its fragrance, colour and disease resistance. The garden is designed in such a way that no two adjacent beds feature a similar colour, allowing each rose to show off it's individual charms. Many of the roses in the garden have royal connections, including the rich red 'Royal William' created to mark Prince William's birth on this day in 1982 and a yellow rose 'Golden Wedding' given to The Queen and The Duke of Edinburgh for their wedding anniversary in 1997."
While another marked the opening of the Palace Garden with an image of a garden party taking place in the same venue over 120 years ago. They shared in the caption, "To mark the opening of Buckingham Palace Garden for the summer, this photograph shows a garden party in progress over 120 years ago. The garden party was held as one of the many events to celebrate Queen Victoria's Diamond Jubilee in 1897. The west front of the palace can be seen in the background while attendees wearing white dresses, top hats and frock coats are in the foreground."
Close Story