In Odisha's Sukinda Valley village, tribals have little hope for change
State and national polls are being simultaneously held in Odisha. The last six of Odisha's 21 Lok Sabha seats will also go to the polls in the fourth phase of the ongoing polls on Monday.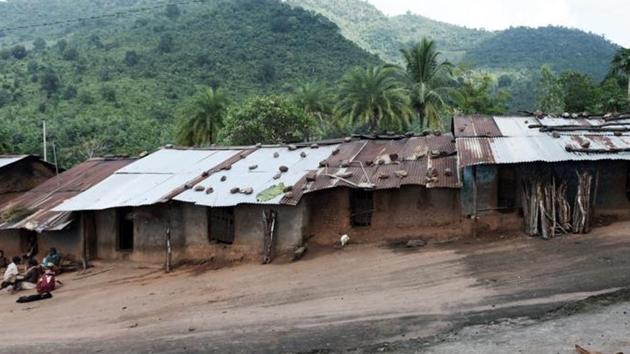 Updated on Apr 30, 2019 06:09 PM IST
Hindustan Times, Nagada(Jajpur) |
Debabrata Mohanty
As many as 19 kids died of malnourishment and disease in July 2016 in Odisha's Sukinda Valley, a mineral-rich belt, known for its chromite deposits. Companies like the Tatas and the Odisha Mining Corporation extract chromite -- used in the flush with funds auto industry, for one -- to make chromium.
The deaths prompted chief minister Naveen Patnaik to form a task force for the development of the area's three villages collectively known as Nagada. The state government provided concrete houses to each family of Nagada, built Anganwadi or child care centres and dug wells. It promised regular medical check-ups and vaccinations for kids and pregnant mothers. Solar lights, too, were provided along with an 11 KV electrical substation.
Three years on, a road connecting Deogaon to Nagada has been reduced to a boulder-filled track with potholes in several places. Much of the 162-km road from Bhubaneswar to Sukinda is in good condition. But the road ends at Deogaon, where booths were being prepared for polling for the Sukinda assembly constituency on Monday.
State and national polls are being simultaneously held in Odisha. The last six of Odisha's 21 Lok Sabha seats will also go to the polls in the fourth phase of the ongoing polls on Monday.
There does not appear to be much excitement about the polls in Nagada, where a few faded pictures of Patnaik covered the walls of a few huts. Auto-rickshaws are the only means of transport. There are no government or private bus services between Nagada and Deogaon.
Monga Pradhan, 60, one of Nagada's 141 voters, said it will cost him Rs 40 to go to Deogaon by rickshaw to vote. "Even if my wife, daughter and I walk down the hill to vote and save Rs 120, what would I get in return? Will any leader take care of my livelihood?"
He said he voted for Patnaik's ruling Biju Janata Dal (BJD) in the last election, but he is not hopeful of change.
"I can neither go to the forest nearby to collect firewood, nor to cultivate potatoes or maize. The government has shut us out of the forest that kept us alive for so long," he said. Only a handful of Nagada's villagers work in chromite mines; the rest of them are dependent on the forest.
"We used to grow maize, paddy and vegetables on the hilly slopes. We would dig out roots to make liquor, and with the money we earned from selling it in Deogaon, we would buy oil and salt. But for over a year now, the forest department has fenced off the forest and does not allow us inside. I have a concrete house now, but what do I do with it? How do I make ends meet with the Rs 500 old age allowance?" he asked.
Monga's neighbour, Ugunia Pradhan, said cases were lodged against villagers for venturing into the forest. "Though we get rice at Rs 1 per kg, we need access to the forest for other things like firewood. Over the past year, at least six Nagada villagers were jailed for entering the forest," he said.
Under the Odisha Forest Act, 1972 anyone entering a reserve forest or a proposed reserve forest can be arrested and penalised for trespassing. A senior forest official, who spoke to HT on the condition of anonymity, said though normally officials overlooked entry by tribals, a few overzealous officials may have been hauling them under the Act to save the teak plantations.
The villagers say they would have kept away from the forest had the government kept its word on allocating 10-acre land for community cultivation inside forest land in 2017. "Instead, the officials decided to build a canal on the earmarked land to stream the water from mountain. Which land can we cultivate now?" asked Binod Pradhan, who spent a few months in jail in September 2018 for violating the ban. "Even our cattle cannot enter the forest to graze since there is a barbed wire [fencing]," Sadhabani Pradhan, a villager, said.
Divisional forest officer SMT Rehman, who is in charge of Nagada, blamed the tribal custom of slash-and-burn cultivation for the problem. "We tried to educate them several times not to set fire, but they would not listen." He said in 2017 they were forced to fence the forest and lodge cases against those who violated the ban imposed.
Jajpur district collector Ranjan Kumar Das said the fencing of the forests was meant to protect the fruit-bearing trees as well as the plantations of the forest department. "The Juanga tribals do shifting cultivation which destroys forests. We can't allow them to do that," said Das. While no candidate has addressed the issue during campaigning, the local BJD candidate Pritiranjan Gharai's name is there on all foundation stones of the forest fencing .
Environmental activist Biswajit Mohanty said the forest department has a huge budget for afforestation, but it is clueless about how to spend the money. "Earlier, they were fencing with bamboo twigs, which was environment-friendly. But now the barbed wire fencing is not only alienating the tribals but also posing a danger to wildlife."
A police officer, who spoke on condition of anonymity, warned the jailing of tribals for entering the forest could boost Maoist activities. "The Maoists had some presence here till 2010."
Residents say the electricity lines were provided over a year back but there is no power supply yet.
Jajpur district collector Ranjan Kumar Das promised to provide electricity after the current polls.
"We are also thinking of providing a long-term livelihood to the tribals and resuming a bus service," he said. The collector however evaded reply on the delay of electricity supply saying he is busy with poll-related arrangements.
Saroj Mahakud, who runs Aspire, an NGO, is sceptical. "Three years are enough to develop a habitation like Nagada. The residential school is yet to start. Now, even a sustainable livelihood in the forest is out-of-reach for them."
Close Story