Akhilesh Yadav to contest from father Mulayam's seat Azamgarh
Updated on Mar 24, 2019 10:37 PM IST
In a list of two candidates that the party put out on its Twitter handle on Sunday, it also named Azam Khan as its candidate from Rampur.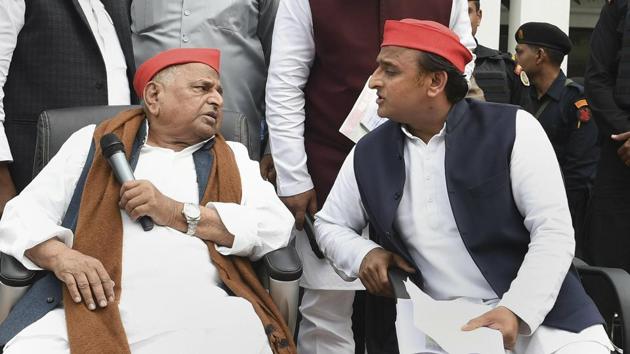 Samajwadi Party (SP) president Akhilesh Yadav will contest the Lok Sabha elections from Uttar Pradesh's Azamgarh, a constituency that is currently represented by his father Mulayam Singh Yadav, the party said on Sunday.
Mulayam, the 79-year-old patriarch of the party, will contest the election from Mainpuri, a seat he has won thrice in the past including in 2014, when he chose to vacate it and retain the Azamgarh constituency.
Akhilesh has won the Lok Sabha elections from Kannauj three times — in the 2000 bypoll, and in the general elections in 2004 and 2009. He vacated the seat in 2012 after becoming the chief minister of Uttar Pradesh. His wife Dimple Yadav was later elected as the MP from the seat in a bypoll.
The announcement of Akhilesh's candidature ended speculation that he was planning to not contest the Lok Sabha elections, just like Bahujan Samaj Party (BSP) chief Mayawati.
The SP will contest 37 of the 80 Lok Sabha seats in Uttar Pradesh and its ally BSP will fight 38 in the upcoming national elections. They have agreed not to contest the two Congress pocket boroughs of Rae Bareli and Amethi.
Senior SP leader Mohd Azam Khan will contest the election from Rampur.
He is the sitting MLA from the area and the SP's most prominent Muslim face. Khan has won the Rampur assembly seat nine times.
The Samajwadi Party has so far announced names of 20 candidates, including one in Madhya Pradesh.
The party on Sunday included its founder Mulayam's name in the list of 40 "star campaigners", a day after leaving him out of an official document submitted to the Election Commission (EC).
It sent a revised document to the EC with Mulayam's name on top of the list, even as speculation grew of the SP patriarch being snubbed ahead of this summer's Lok Sabha elections.
"The list that we officially released to the media is the actual list. The list that the party submitted to the Election Commission, perhaps, by a clerical error did not have Netaji's [Mulayam] name, so the party submitted the amended list and this was the list that was released to the media," said SP spokesperson Rajendra Chaudhary.
Another SP leader, who spoke on condition of anonymity, said Mulayam "may not be travelling as much" as he has in the past for election campaigning.
Other leaders on the list include Dimple Yadav, Jaya Bachchan, Ramgopal Yadav and Azam Khan's son Abdullah Azam Khan, who is an MLA.
Personalise your news feed. Follow trending topics