Lok Sabha elections 2019: Bengal battle reaches EC in Delhi
Election officials said isolated cases of violence had been reported in the state that has witnessed over 52 per cent polling so far.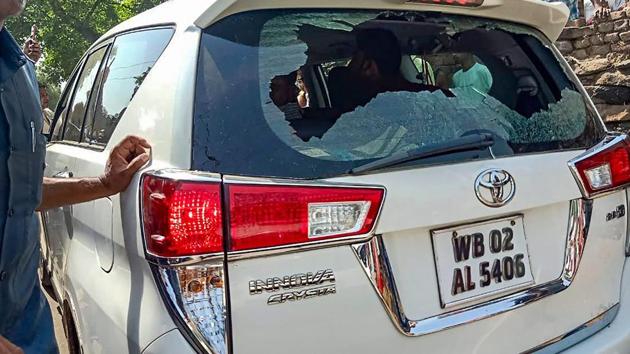 Updated on May 06, 2020 08:48 PM IST
The battle between the BJP and the Trinamool Congress in West Bengal's Asansol and beyond reached the Election Commission in Delhi with the two parties blaming each other for poll violence in the fourth phase of voting.
There were several reports of clashes in the early hours of polling. In Birbhum Lok Sabha constituency, news agency PTI said clashes had broken out between supporters of rival parties in Nanoor, Rampurhat, Nalhati and Siuri areas.
Election officials said isolated cases of violence had been reported in the state that has witnessed over 52 per cent polling so far.
WATCH: Analysis I Violence mars W.B voting; and can BJP score in Mamata's turf?
A jawan of the central police forces later had to fire once in the air in Poduma area Dubrajpur under Birbhum constituency to control the situation after villagers threw stones at the security personnel, according to reports.
In its representation to the Election Commission in Delhi, the Trinamool said the firing was designed to scare voters.
Eight seats in south Bengal, considered the bastion of the ruling Trinamool Congress and chief minister Mamata Banerjee, are voting in this phase. The Trinamool holds six of the eight seats, the other two were won by BJP's Babul Supriyo (Asansol) and the Congress's Adhir Ranjan Chowdhury (Baharampur) in 2014.
The BJP repeated Union minister Babul Supriyo from Asansol. He is pitted against film star Sreemati Dev Varma, better known as Moon Moon Sen, who has been moved from the Bankura seat that she had won in 2014.
Long before his party filed a formal complaint in Delhi, BJP leaders such as Babul Supriyo posted several photographs and videos on social media that accused local officials of colluding with Bengal's ruling Trinamool Congress leaders. In one widely-circulated video, two men were spotted approaching people as they stood near the voting machine. The BJP said it looked like they were checking who the people had voted.
In many other places, Babul Supriyo said Trinamool supporters had prevented his party's agents from reaching the polling stations. His car was also vandalised during voting, allegedly by Trinamool supporters outside a polling station in Barabani.
A BJP leader said Babul Supriyo had intervened to ensure that his polling agent could enter the polling station. When he was coming out, Trinamool workers surrounded his car and started pelting stones. The rear glass of the car was broken, a BJP leader told IANS.
Supriyo said strong-arm tactics was an effort by the ruling party to tie him down.
"We have got information of polling agents not being allowed in a number of booths. But how many booths can I visit?" he said, asserting that he would nevertheless keep up the effort to reach as many places as possible.
Close Story