Lok Sabha Elections 2019: How BJP's 'last-minute' move won over disgruntled allies in Uttar Pradesh
Apna Dal had two MPs from UP and its nine candidates won in 2017 UP polls, while four SBSP candidates became MLAs in a tie-up with the BJP.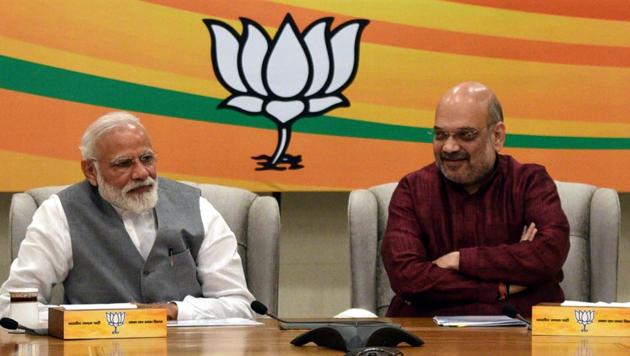 Updated on Mar 12, 2019 12:21 PM IST
Hours before the model code of conduct came into effect, the Bharatiya Janata Party (BJP) government made a last-minute move to placate its disgruntled allies, appointing 15 of their cadres to various bodies and corporations in Uttar Pradesh.
In all, 72 people, including 15 of the allies, were appointed to various bodies and corporations.
The BJP's two UP allies are: Apna Dal, which comprises kurmis, an OBC sub-caste of big political importance, and Suheldev Bharatiya Samaj Party (SBSP), which has support of Rajbhars, another OBC sub-caste whose voters are spread evenly in several east UP constituencies.
"BJP has made an honest attempt by taking a step towards us. We will take two, and of course, contest the 2019 LS polls together," said SBSP chief Om Prakash
Also read: How the political landscape changed in the last 5 years
Rajbhar, who hoped that there would be an amicable seat sharing arrangement.
"We are satisfied with the BJP's gesture," said Arvind Sharma of Apna Dal, adding that the appointments to backward classes commission were important for it would help them raise issues related to backwards more effectively.
Both the parties had openly been critical of BJP and the appointment of several of their cadre to plum positions in corporations and other government bodies is being viewed as a BJP gesture to placate them.
The BJP had inked a pact with Apna Dal in 2014 Lok Sabha polls and had even got its leader Anupriya Patel, now a union minister, to accompany the then BJP's PM candidate Narendra Modi for his nomination to convey that BJP had the support of kurmis in Varanasi, Modi's LS seat.
Also read: Lok Sabha election 2019: Here is all you need to know about Uttar Pradesh
Similarly in 2017 UP polls, BJP inked a pact with SBSP, given its strategic presence in several east UP seats.
Apna Dal had two MPs from UP and its nine candidates won in 2017 UP polls, while four SBSP candidates became MLAs in a tie-up with the BJP.
On Sunday nine Apna Dal members were accommodated to various government bodies. Two of them, Ram Lakhan Patel and Rekha Verma, have been given minister of state rank and two others have been appointed members of state backward classes commission.
The Apna Dal had two factions -- one led by union minister Anupriya Patel and the other by her mother Krishna Patel. It split again recently with one of its two MPs, Harvinash Singh, announcing the launch of All India Apna Dal. All three are vying for the legacy of Anupriya's father Sone Lal Patel, who launched the Kurmi-based Apna Dal in 1995.
"Now, we are happy and with the government. Seat sharing details are yet to be finalised but we will surely be with the BJP," said Rajbhar.
Rajbhar's party is reportedly lobbying for two LS seats and there are reports that the BJP would accommodate its demand.
SBSP members, including Arvind Rajbhar, son of Om Prakash Rajbhar, has been made head of Small Industries Corporation while Rana Ajeet Singh has been made head of Seed Development Corporation, both positions that are equal to minister of state.
The BJP also appointed several important party hands like JPS Rathore, the UP BJP vice president, as chairman of UP Pollution Control Board. Rathore is a member of party's election management cell and is also the in-charge of Awadh region.
Close Story
Personalise your news feed. Follow trending topics