Lok Sabha elections 2019: Congress's Krishna Poonia emphasises rural connect to appeal to voters
After Jodhpur, Jaipur Rural Lok Sabha seat has emerged as the most contested with two Olympians Rajyavardhan Rathore of the BJP and Poonia of the Congress in a direct fight.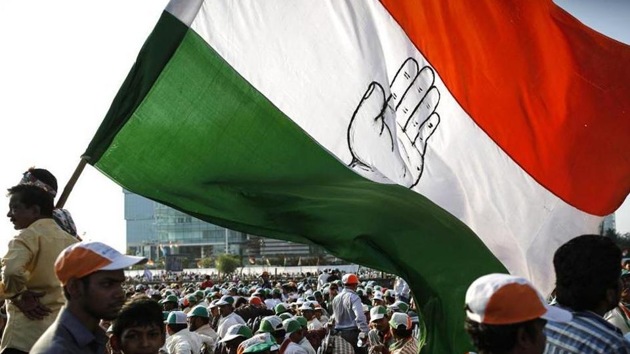 Published on May 02, 2019 12:37 PM IST
At a meeting in Manota village in Jaipur Rural district Congress MP candidate from Jaipur Rural constituency, Krishna Poonia tries to connect with the masses by bringing up her rural background..
Counting the odds she beat, she says, "My father ran a dairy. I have milked cows and fed them fodder. Later this farmer's daughter got a chance to get into sports and get ahead in life. I have made the nation proud and need your blessings to serve you and make you proud," she says as the crowd breaks into applause.
She also hits out at the BJP, listing BJP'S promises which it failed to fulfill. "Ujjwala schemes, jobs, black money, Skill India, Made in India, Swachh Bharat were mere jumlas. Now they are not talking of these issues. Since Congress is giving them a hard time, they are bad-mouthing party chief Rahul Gandhi," she says. She talks of the Congress's Nyay scheme for the poor and the Congress promise of a separate budget to help farmers.
After Jodhpur, Jaipur Rural Lok Sabha seat has emerged as the most contested with two Olympians Rajyavardhan Rathore of the BJP and Poonia of the Congress in a direct fight.
The small gathering that Poonia addresses has a substantial number of women dressed in brightly coloured traditional dresses. Ending her address, Poonia tells the women, "Le ghoonghat ki oanth, de Krishna ko vote. (from behind your veil, vote for Krishna)." The women break into a traditional song of the Meena community and pose with Poonia, who dwarfs all the women due to her height, for photographs. Poonia says it's encouraging to see greater women's participation. "Rajasthan society is conservative and politics is seen as a male preserve, It's good to see that now women are coming out in larger numbers."
It's a different stage for Poonia, international gold medallist dicus thrower and Olypoic participant. But her transition to politics has been smooth. She joined the Congress in 2013 and is currently MLA from Sadulpur in Churu distirct. As Poonia's cavalcade passes through different villages in Jamwa Ramgarh tehsil,
small trucks are stationed at the entrance blare songs praising Poonia and Congress banners are strung high on ropes flutter in the hot afternoon breeze.
In Jamwa Ramgarh, a Meena dominated belt, there is full support for the Congress. People are not impressed with slogans of nationalsm and national security nor is there any sign jhalak of the Modi undercurrent that is said to be sweeping the state
In Manota village, a group of elderly men in pristine white kurtas and dhotis with large white safas on their heads to shield them from the afternoon sun, say that Poonia will win from Jaipur Rural constituency. Mangiram Meena, 65 says "BJP has lied to people. People here don't believe in their promises. There is no Modi factor here."
Jitaram Meena, a labourer says this is a traditional Congress seat and BJP has no support here. He says Rathore and Kirodi Meena, a Meena leader from the BJP, had visited the village a few days back for campaigning but they got poor response. Shankar Meena, another elderly farmer is also critical of Modi. "Demonetisation has affected common man such as farmers, small traders. We don't support Modi."
Jaipur Rural constituency has eight assembly segments – Amer, Jhotwara, Phulera, Viratnagar, Bansur, Jamwa Ramgarh, Shahpura and Kotputli. Poonia seems to have more support in Jamwa Ramgarh, Shahpura and Kotputli where Congress president Rahul Gandhi held a public meeting.
It is a Jat dominated constituency and the caste equation is finely balanced. There are around 4.5 lakh Jats, 2 lakh Yadavs and 2 Lakh Gurjars, 1.5 lakh Meenas, 1.5 lakh Rajputs, 1 lakh Banias, 1.5 lakh Brahmins, 1 lakh Muslims and 1.2 lakh Malis, But Rathore's work and upright image makes him popular in the constituency. In her speeches, Poonia too points to false promises made by Modi.
"BJP and Modi were unable to fulfil their promises and so they are now hiding behind the issue of nationalism." She says not nationalism but development is the issue. "People want to know what was done in the last five years."
In Naila village, some youths at Poonia's gathering say that Rathore had called the people here as thieves. "We had asked for a low-floor bus between Naila
and Jaipur but Rathore said people here were thieves and did not pay the bus fare. People are angry with him," says Chandmal Sharma, a local.
Shakuntala Koolwal who owns a garment store, says her family has always voted for the Congress. Asked if she knows who the Congress candidate is, she says, "No, we don't know her but that does not matter. We will vote for Congress."
People say water scarcity is the major problem in the area that has not been addressed. Manota sarpanch Suman Meena says pipelines have been laid but water has not yet reached the area. Several tankers are bringing water to villages daily.
Close Story