Lok Sabha Elections 2019: Eyeing big gains, BJP takes smaller allies along
Party leaders say BJP is still capable of challenging the SP-BSP-RLD alliance on its own but the smaller parties with considerable vote banks will help party in consolidating its position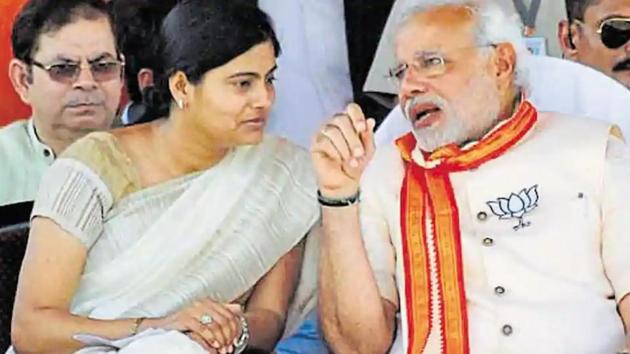 Updated on Mar 14, 2019 12:24 PM IST
Despite being high on confidence, the leaders of the Rashtriya Swayamsevak Sangh (RSS) and the Bharatiya Janata Party (BJP) admit that retaining the gains of the 2014 Lok Sabha polls would be a tough task for the party this time around.
"In 2014, the BJP had everything to gain but 2019 is a bigger challenge as now the fight is to retain the support base," an RSS leader from west UP said.
RSS leaders, who are working behind the scenes to mobilise voters and shape public opinion and discourse to ensure the victory of nationalist forces, admit that on paper the caste challenge posed by the Samajwadi Party (SP), Bahujan Samaj Party (BSP) and Rashtriya Lok Dal (RLD) is formidable.
The Sangh functionary's comment sums up the challenge that the BJP faces in Uttar Pradesh where statistically the alliance with a combined vote share of 42.98 per cent (in 2014) may edge past the BJP (42.63 per cent).
Savitri Bai Phule, BJP's Dalit MP from Bahraich who will contest the Lok Sabha polls on a Congress ticket, said: "BJP is not looking as formidable as it was in 2014 or even in 2017 UP assembly polls when despite a minor dip in its vote share (39.6 per cent), it swept the state. This time the BJP is in for a shock."
The BJP leaders have dismissed Phule as a rebel who left the party on coming to know that she might not be fielded.
However, even the most diehard supporters of the BJP admit that the elections would put party chief Amit Shah's strategising skills to test.
A key BJP functionary, who did not wish to be named, said: "The party is putting together its own alliance in place. The BJP is still capable of challenging the alliance on its own but the smaller parties with considerable vote banks are the key to the party's plan. These smaller outfits will take us over the line."
From 1991 to 1999, the BJP got at least 30 per cent votes in each of the four elections it contested in the period. Its worries started from 2004 when its vote share slipped to 22 per cent and plummeted to an embarrassing 17.5 per cent in 2009 before Amit Shah deftly tapped the 'Modi wave' to spin a turnaround in UP in 2014 LS polls.
BJP leaders admit that the party would have to push hard to retain its seats. "Fight or no fight, we want to secure each vote," a UP minister from Purvanchal (east UP) said.
This is where the allies come in.
THE IMPORTANCE OF ALLIES
"Allies are crucial because both the Suheldev Bharatiya Samaj Party (SBSP) and Apna Dal are from Purvanchal from where Prime Minister Narendra Modi is an MP. This is the region where the opposition will put maximum pressure," said SK Dwivedi, a political expert.
Congress general secretary Priyanka Gandhi has been tasked with the responsibility of eastern UP. Samajwadi Party president Akhilesh Yadav, who is spearheading the opposition charge against BJP in UP, is also expected to contest from Azamgarh, another key seat in Purvanchal.
This is probably the reason why UP cabinet minister and SBSP chief Om Prakash Rajbhar, despite gaining in alliance with the BJP in 2017 UP polls, keeps reiterating the importance of his small party for a "giant like the BJP".
"We are ants as compared to the BJP. Had we not been useful, do you think the BJP would have inked pact with us? There are no free lunches in politics," said Rajbhar.
Four lawmakers were elected on SBSP ticket in alliance with the BJP in 2017 UP assembly polls. Before the alliance with the BJP, SBSP had a long losing streak since 2003.
SBSP leaders, however, claim that the BJP gained more than them.
"There are 2.5 lakh Rajbhar voters in Ballia, 2.45 lakh in Salempur, 2.25 lakh in Ghosi, 2.5 lakh in Ghazipur, 2 lakh in Varanasi, 2.45 lakh in Chandauli, 1.5 lakh in Jaunpur, 2 lakh in Ambedkarnagar and 2 lakh in Lalganj," said SBSP general secretary Shashi Pratap Singh.
Prof Kaushal Mishra of the Banaras Hindu University, who has also joined BJP, said: "Small players are important in extending party's influence. It showcases the BJP's desire to take everyone along. It's a win-win situation for both."
Another key BJP ally is Apna Dal, a OBC political outfit formed by late Sonelal Patel to mobilise influential kurmi voters in and around Varanasi into becoming a political force in the region. Prime Minister Narendra Modi is an MP from Varanasi and all set to re-contest from here.
Interestingly, SBSP chief Om Prakash Rajbhar was also with Apna Dal before moving out after being denied ticket by Sonelal Patel.
In 2014, after firming up an alliance with Apna Dal, BJP had got Anupriya Patel, the leader of the then undivided party, to travel with Modi in an open jeep for his nomination from Varanasi.
"Anupriya had by then become an MLA from Rohania assembly segment of Varanasi and the subsequent pact with BJP was mutually beneficial for both," said Athar Siddiqui of the Centre for Objective Research and Development (CORD).
In alliance, Apna Dal won two Lok Sabha seats for the first time and subsequently 9 lawmakers got elected on its ticket in 2017 UP polls.
"In return, we provided them key caste-based support in and around Varanasi," an Apna Dal leader said.
After the BJP placated both Apna Dal and SBSP by accommodating their cadre in various government corporations, both the parties which had initially been threatening BJP, are now saying they would be a part of the alliance.
"We aren't in touch with the Congress as reported by some," an Apna Dal leader said.
RAJA IN ALLIANCE?
There is a buzz about BJP firming up a pact with Raja Bhaiya's political outfit Jansatta Dal (Loktantrik).
According to people familiar with developments, union home minister Rajnath Singh is in touch with Raja Bhaiya.
A BJP leader from Pratapgarh said: "There is this talk of Raja Bhaiya catering to those angry with BJP's SC/ST Act while the two OBC players bring the backward votes. In deputy chief minister Keshav Prasad Maurya, the BJP has groomed its own leader of influence among backwards."
Close Story
Personalise your news feed. Follow trending topics