Lok Sabha elections 2019: Gurgaon MP seeks re-election with a mixed report card
Since 2009, people of south Haryana had made known that successive governments had ignored the region, especially Gurugram even when it generates 60% of state's revenue.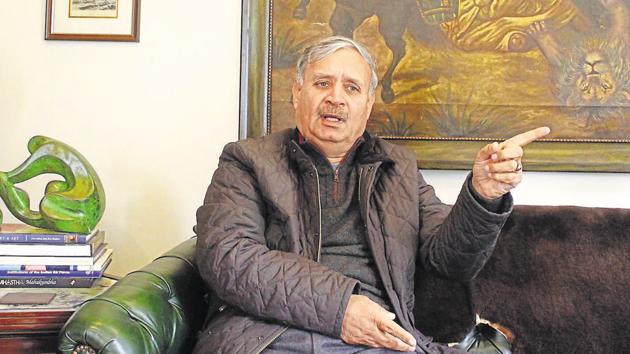 Updated on Apr 22, 2019 10:16 AM IST
In 2014, Rao Inderjit Singh won the Gurgaon seat on a BJP ticket BJP after he promised to push for infrastructure development and job creation in south Haryana and Gurgaon—a long-standing, yet ignored demand. Luckily for Singh, BJP sailed through in the state elections and formed the government in Haryana ensuring that promises made by Singh were in sync with the agenda the BJP government had set out to achieve with Manohar Lal Khattar at the helm.
In his appeal for votes five years ago, Singh had made 10 major promises including setting up the Gurugram Metropolitan Development Authority (GMDA), extending the Metro to Old Gurugram, introducing a bus service, upgrading the railway station, getting the Kherki Daula toll removed, strengthening the Real Estate Regulatory Authority (RERA), getting the IAF ammunition depot shifted, and development of villages.
As the Gurugram Lok Sabha constituency goes to polls on May 12, Singh is again in the fray as the BJP candidate. HT takes stock of the promises made by him, the status of their delivery and how the people and opposition parties describe his performance.
Since 2009, people of south Haryana had made known that successive governments had ignored the region, especially Gurugram even when it generates 60% of state's revenue.
Even when the previous Congress-led government was in power, Singh demanded for a development authority for Gurugram so revenue generated here could be spent locally. As this demand was ignored, Singh built a narrative around non-development in south Haryana.
This was the reason that he left Congress in 2014 and joined BJP, political analyst and journalist Anil Arya said.
In keeping with its promise, GMDA's formation as the chief development agency was set in motion in 2014 and it became functional in January 2018.
The GMDA has taken up works of around ₹1,500 crore, expanding roads, setting up a medical college in Kherki Majra and a super specialty hospital in Sector 67. It is also in-charge of water supply, power supply and arterial roads.
Addressing a public meeting on last Friday, Gurugram MP Rao Inderjit had said.
"I have demanded that Gurugram's revenue should only be spent here, but nothing happened. It is only the BJP government that has set up GMDA to ensure development of this city. In next five years, the GMDA will transform Gurugram."
The critics, however, said the agency's contribution to infrastructure building has been negligible and the city is still struggling with water, power and sanitation. "It was promised that the GMDA would become a central development body and files won't be sent to Chandigarh. But nothing has changed," said Captain (retd) Ajay Singh Yadav, who is the Congress candidate from Gurgaon Lok Sabha seat.
"GMDA has no source of revenue of its own," AAP Gurugram spokesperson RS Rathee said.
Bhawani Shanker Tripathi, a resident of Sector 23 and a development professional, opined that the GMDA was not required and the same powers should have been granted to MCG—a body created and empowered by the Constitution of India. "The GMDA has added to the multiplicity of agencies. It neither has the capacity nor ability to deliver whatever agenda it has," he said.
Chief among Singh's poll promises were a dedicated bus service, something that had remained "in the works" for years. In September 2018, the GMDA started Gurugama, which currently runs 75 buses on five routes and plans to deploy 200 buses in the first phase by end of July.
Though slow to take off, the ridership has grown from 5,000 a day to an average of 20,000 a day, said Gurugram Metropolitan City Bus Limited CEO Chander Shekhar Khare.
However, both AAP and Congress said the bus service was too expensive and the routes were unwieldy. "The buses are operating without commuters whereas shared autos are filled to the brim. Why is this so?" questioned a Congress leader.
Residents said there is a need to remove autos, realign bus routes and reduce the cost of travel.
Activist Ameena Sherwani said there was need to improve last-mile connectivity. "Buses should offer connectivity with Metro stations; smaller buses with more frequency should be introduced," she said.
In 2014, connectivity with Delhi had become poor and numerous road projects were stuck. Since then, a number of road projects have been completed—underpasses and flyovers on Delhi-Gurgaon Expressway, KMP Expressway—or made significant progress—Dwarka Expressway.
"Numerous roads, expressway, flyovers and underpasses have been built across Gurugram. The problem of waterlogging at Hero Honda Chowk has been resolved to a great extent and a flyover built there," Singh had said last Friday.
Residents and activists back Singh's claim.
"Traffic congestion has reduced because of flyovers and underpasses," said Wazirabad resident Manish Yadav.
Activist Ameena Sherwani said jams have reduced, but pointed at several other areas where infrastructure creation stood ignored. "The government has failed to manage city's solid municipal waste, upgrade the sewage system or manage the trash collected at Bandhwari," she said.
The Congress, however, said that all the projects BJP was owning up were conceived and planned under its governments. "Gurugram became the premier auto and IT hub under the Congress. All major corporate companies came here because of the growth impetus given by Congress," Congress communication in-charge Randeep Singh Surjewala said on Thursday.
When the real estate bubble burst in the start of this decade, some builders vanished, others refused to honour promises made to investors. It was in this backdrop that homebuyers started approaching local politicians and Singh promised he would give more teeth to the RERA.
Based on RERA, 2016, the state implemented the Haryana Real Estate (Regulation and Development) Rules, 2017, to streamline the realty sector.
Highlighting that there's one HRERA regulatory body in Gurugram and another for rest of Haryana, the MP said this was done "to ensure homebuyers' problems are resolved within the city" since it is a major real estate market. The HRERA Gurugram has issued a number of directions to rein in recalcitrant developers and given orders in favour of buyers. It has also set up a website where new projects can be registered, details submitted by developers, the brokers can also register on it and complaints can be lodged there. "Things have streamlined in new projects, but the problem is related to older projects that are out of its (HRERA) purview," realty consultant Sanjay Sharma said.
Critics and residents added that HRERA has also not been able to get its orders implemented.
Congress' Ajay Yadav said the BJP government, instead of implementing RERA, had diluted the Act to help builders. "This government has made HRERA toothless," Yadav said.
The promise to extend the Metro to Old Gurugram only holds good on paper. The detailed project report for extending Delhi Metro had been approved, and has been sent to Union government for final approval, after which this project will be taken up by the Haryana Mass Rapid transport corporation.
"We promised to extend the Metro to Old Gurugram as lot of people there depend on public transport and also because that part of the city has seen lopsided development. This proposal is in final stages and it will be delivered in the next term," the Gurugram MP said on Friday.
The delay has drawn widespread criticism. "The Metro has been extended to all parts of Noida in Uttar Pradesh in last five years, but not a single Metro station has been added in Gurugram," AAP leader Mahesh Yadav said.
Senior Congress leader Pradeep Zaildar said the Metro was brought to the city by Congress and its extension would also happen when their party comes to power. "The local politics of BJP leaders has led to delay in its extension," Zaildar alleged.
The promise of shifting Kherki Daula toll plaza, where concessionaire has the permission to collect toll till 2023, could also not be realized as the government proposed to move it to Sehrawan beyond Manesar, a heavily forested area and a wildlife corridor. The proposal was met with opposition from locals and environmentalists. After this, proposal was sent to shift the toll plaza to Panchgaon, but there too the matter got stuck in litigation over acquisition of land by HSIIDC.
The Haryana government, on January 24 this year, removed the wall that blocked access to NH-48 from Dwarka Expressway side. However, since the move violated the agreement with the highway concessionaire, the matter landed in the high court, which allowed MCEPL to close the road till matter is resolved.
The price of this stalemate is paid by residents and industry owners, who lose hours every day stuck in jams at the toll plaza, especially during rush hours.
The provision of water, power and roads in the developing sectors (58 to 115) has been a major issue. Likewise, in developed sectors (1 to 57) upgrading these facilities to meet requirement of a growing population also remains a critical issue.
In the last five years, the city has remained in the throes of change with newly formed GMDA trying to set up new capacities where the MCG took over from HSVP and the privately developed colonies for maintenance.
BJP state spokesperson Jawahar Yadav said that a number of new projects, including the Smart Grid for upgrading electricity infrastructure, setting up water boosting stations, increasing the capacity of water treatment plants, have been taken up in Gurugram.
"The city will start smart management of water and power supply in the next few years," he said.
Residents of developing sectors, however, differ.
As the city readies to select a new government, Rao Inderjit Singh, last Friday, reiterated, "The GMDA and the MCG would be further empowered so large projects can be taken up without needing a permission from the state capital."
Till this happens, the city needs to sit back and asses what was promised and what has been delivered as it decides to vote on May 12.
Close Story