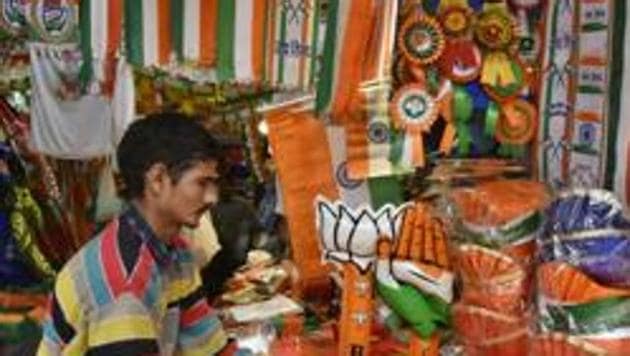 Parties pick new candidates as anti-incumbency plays spoiler
Rebalancing of local caste equations one of the reasons why parties tend to change their candidates.
Hindustan Times, New Delhi | By Gilles Verniers
UPDATED ON MAR 21, 2019 02:19 PM IST
With the first phase of elections less than a month away, parties have already started finalising their list of candidates. While common wisdom would suggest that most incumbent members of Parliament should run again, the Indian experience tells a different story.
Anti-incumbency, or the proclivity of Indian voters to reject those they have voted into power in the previous election, is a wellknown factor in Indian politics. In most democracies, incumbents run with a series of advantages, such as name recognition, party backing, a funding head start and the benefit of whatever work they have accomplished during their tenure. In India, these aspects seem to work against rerunning incumbents. Beyond the effect of overall party performance, most sitting MPs lose their seat, either rejected by voters or by their own parties.
Anti-incumbency can be measured in two ways: party or government-level incumbency, that is the ability of a government to win a consecutive term, and individual-level incumbency, that is the ability of individual MPs to get re-elected. Stable results or high government incumbency can conceal a lot of volatility, in which many seats change hands.
We measure individual incumbency after having attributed a unique personal identifying number (PID) to each Lok Sabha candidate, across time and political parties. The figures do not include incumbents running again but contesting under different party affiliations (turncoats). The data factors in by-polls and compares the elected members of a new Lok Sabha with the sitting members at the close of the previous Lok Sabha.
Law of low returns
Since 1991 and across parties, three quarters of all MPs run again on average, and about half of them get re-elected. This means that each Lok Sabha since 1991 has counted an average of 40% of re-elected MPs.
In 2014, 72% of all MPs ran again, with a strike rate of 42%. This means that out of 543 MPs, 167 are re-elected parliamentarians, while 376 are either former MPs (59) or first-time MPs (317). This high turnover is easy to explain as a consequence of the Bharatiya Janata Party (BJP) wave that swept away many incumbents running again, particularly among the Congress. But the ratio of successful incumbents in the 2009 Lok Sabha was equally low, at 32%. This meant that despite the fact that the United Progressive Alliance won a second term, most MPs returning to the fray lost their seats.
The 2009 Lok Sabha counted 290 new MPs within its ranks. The ratio of incumbents running again and those running again successfully was much higher in the 1998 and 1999 polls, owing to the proximity between these two elections and the relatively stable performance of the Congress and the BJP. But the data suggests that individual incumbency is not solely linked to party performance and that, given a choice, voters would rather go for a different candidate than for the incumbent MP.
As a result, the bulk of MPs elected over the years have been first-time MPs. Political circumstances usually account for these high numbers. In 1971, Indira Gandhi won a large majority with many new candidates, after the 1969 Congress split. The Janata coalition victory in 1977 brought fresh blood to Parliament. The ratio of firsttime MPs decreased during the 1990s. In 1999, most parties contested with the same candidates.
How do the Congress and the BJP compare?
n terms of mere re-nominations, the BJP and Congress run 46% of their incumbents again on average. These numbers were higher for the BJP in the late 1990s, when it ran 56% and 70% of its incumbents again. Post-2004, the numbers dropped as the party rejected more of its sitting MPs. In 2014, the number of incumbents running for office again increased slightly to 40.6%. Most of them (88.8%) got re-elected.
There is less variation in the re-nomination patterns of the Congress, which, by and large, lets slightly less than half of its MPs to run again.
In terms of performance, BJP MPs running again tend to be more successful than those from the Congress. This is due to the fact that BJP MPs – and votes – tend to be more concentrated in the Hindi Belt.
In 2014, most BJP MPs running afresh were re-elected (88.8%), against half of them five years earlier.
Explanation
Why would parties discard so many of their incumbents? The easy answer is that by doing so, parties aim to counter party level anti-incumbency by fielding fresh faces. The results in recent state elections suggest that even in the states where it formed the government, most sitting Congress members of the legislative assembly lost their seats. This indicates that voters' anger was not solely directed against the BJP.
There are other factors that intervene. Some MPs, unable to keep up with the spiraling cost of staying in politics, exit of their own accord. Alliances and seatsharing agreements can lead parties to discard some of their incumbents, although this factor does not play much for both national parties. Similarly, the rebalancing of local caste equations can lead parties to change their candidates. Nomination time can also be the moment for parties to deal with factionalism and sideline/ do away with undesirable candidates. Finally, since 2014, 30 members have resigned or ceased working, while 20 have died. The BJP has already sent the signal that its incumbent MPs would not necessarily get a chance to seek re-election and that their candidacy would be conditioned to an evaluation of their performance. This is consistent with most parties' re-nomination practice. In reality, the decision of which incumbent will get to run again will be made strictly on the basis of a cold calculation of their winnability.
Refusing to secure the position of incumbents was common practice in Gujarat when Narendra Modi was chief minister. He would routinely discard half of his party's MLAs in every election, as a means to keep the other half disciplined. Publicly, this practice was meant also to create the impression that the party cared about performance above the interests of its members.
A high turnover of MPs has far-reaching implications for the functioning of the legislative branch.
On the one hand, one could argue that the renewal of political elites is a good thing for a democracy, a sign of competitiveness of elections, and a sign that voters keep their representatives accountable by punishing them in the polls. On the other hand, the high turnover of representative means a net loss of cumulative legislative experience. Most assemblies in India are assemblies of fleeting newcomers, who have little incentive to learn the ropes of legislative work.
The combination of the high cost of entry into politics and short political life expectancy also encourage predatory behaviour, MPs having little time ahead of them to recoup their investment and raise funds for their next campaign. The fact that parties generally rely on self-funding candidates compounds this phenomenon and contributes to giving a premium to rich candidates as well as to those with a criminal background.
The fate of the current MPs will be determined very soon and, in all likelihood, half of them will already be packing their bags before the electorate castes the first vote .
(Gilles Verniers is Assistant Professor of Political Science and Co-Director, Trivedi Centre for Political Data, Ashoka University. Mohit Kumar, Sukanya Janardhanan, Priyamvada Trivedi and Sudheendra Hangal coded the incumbency data, using Surf, a TCPD-developed name matching software. Views are personal.)
Close